29 Oct

Online Educa Berlin 2012

29 Oct, 2012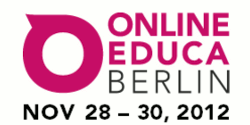 Online Educa Berlin 2012 (OEB) will take place during november 28-30 and focuses on fostering a bright and inclusive future for lifelong learning in which technology enables learners globally to improve themselves.
During conference sessions will explore the effects of the multitude of changes in the fields of technology and education, as learners and learning experts are asked to respond to challenges in society today.
Under the theme 'Reaching beyond tomorrow', OEB will explore these issues and inform about the latest research and practices in both education and business.