07 Dec

Telecentre-Europe at the Conference of Catalan Telecentres

07 Dec, 2012
More than 150 telecentre managers & ICT professionals attended the annual network meeting  of the Catalan Telecentre Network Xarxa Punt TIC that was organized at Barcelona's Cibernarium last November 30th. Among the speakers were representatives of Telecentre-Europe, Telecentre.org Foundation and the Community Association of Spanish Telecentre Networks.
The conference was organized by the Knowledge Society Agency of the Government of Catalonia (owner of the Punt TIC network) and showcased the spirit, people, projects and objectives of a network with more than 600 telecentres, that this year celebrates its 10th birthday.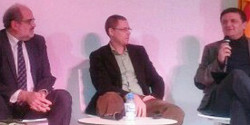 It was an excellent opportunity to show the local & international community "what's hot" today at the Catalan telecentres: new professional profiles, social innovation, mobile apps, robotics workshops, QR itineraries, etc.