20 Jun

News from Digital Skills and Jobs Coalition

20 Jun, 2017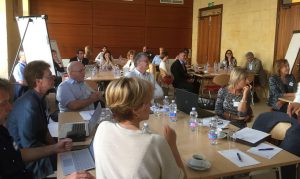 The Digitals Skills and Jobs Coalition have been moving forward. At the moment there are 17 coalitions and up to four more forming expected to be launched in autumn.
The number of pledges is growing and there is a now a thematic call for pledges on the topic of women and ICT. The call is running till September 30th 2017. If your organisation is interested in pledging, you can complete the pledge form. If you are in need of ideas, or want to see what pledges are being made for the Digital Skills and Jobs Coalition, the pledge viewer is now ready and online. By making a pledge you automatically become a member of the coalition. If you want to make a difference by bridging the digital skills gap you can refer to the shared concept for best practices and ideas.
In terms of National Coalitions, May and June were busy months:
The digital Assembly in Malta was preceded by a morning session where coordinators of the National Coalition met with their respective digital champions. The meeting was an excellent opportunity for collaboration where National Coalitions and digital champions received concrete strategies wherein future opportunities can be pursued.