10 Sep

Meet ALL DIGITAL Awards 2018 jury!

10 Sep, 2018

We are pleased and honoured to introduce our jury members who have been working hard in August (and we really appreciate that) to evaluate the ALL DIGITAL Awards entries.

The jury have been excited to learn about the projects and resources and impressed and touched with the work of e-faciliators and digital changemakers. It was not an easy task to choose the best!

Very soon you will learn about the finalists, and now please meet our lovely jury: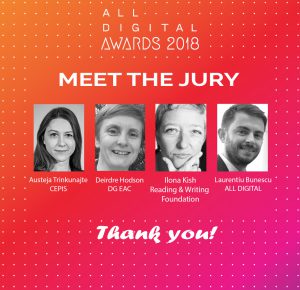 Austėja Trinkūnaitė is Secretary General of CEPIS, the Council of European Professional Informatics Societies, a non-profit organisation representing national associations of IT professionals across 31 countries. Austeja is also the member of the Advisory Board of ALL DIGITAL.
Deirdre Hodson is a policy officer in the Innovation and EIT team at the European Commission's Directorate General for Education, Culture, Youth and Sport. She is working on all aspects of digital teaching and learning in schools and higher education and coordinates the ET2020 Working Group on Digital Education: Learning, Teaching and Assessment.
Ilona Kish is the Director of the Public Libraries 2020 Programme funded by the Bill & Melinda Gates Foundation and run by the Reading & Writing Foundation. Ilona is also member of the Governing Board of the Digital Skills and Jobs Coalition.
Laurentiu Bunescu is CEO of ALL DIGITAL, who has been involved in the European telecentre/digital competence centres movement since 2005 and started one of the first centres in Romania. Laurentiu is also the Vice-President of the Steering Committee of the Lifelong Learning Platform.
---
THANK YOU FOR YOUR WORK!