02 Jan

Library Development Program reduces digital exclusion in Poland

02 Jan, 2013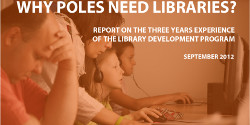 After 3 years of implementing the Library Development Program at Polish Libraries, a very informative and well written report has now been issued about the impact of the program on the end users.
The program is a joint venture between the Bill & Melinda Gates Foundation and the Polish-American Freedom Foundation, implemented in Poland by the Information Society Development Foundation.
One of the  conclusions is the important role libraries play in reducing digital exclusion in Poland: as many as 37% of respondents used a computer for the first time in their life in the library. Another conclusion is that libraries  serve as the "Third Place" in localities:  a meeting place which is friendly and open to all, combining the advantages of private & public spaces.