30 Jan

How to disseminate the MIREIA survey? Best practices from Romania!

30 Jan, 2013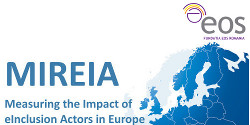 In about 1 week time EOS Foundation managed to reach 1500 Romanian eInclusion actors and over 150 organizations have already filled the MIREIA survey. This was made possible through the use of mailing lists and an already established partners network.
According to the population figure for Romania, the MIREIA mapping exercise had established a minimum target of having 102 eInclusion actors to fill the survey. In no time, and with the help of national partners, the Romanian MIREIA branch EOS Foundation managed to supersede the minimum target with almost 50%!