04 Dec

Become the national branch of the MIREIA survey!

04 Dec, 2012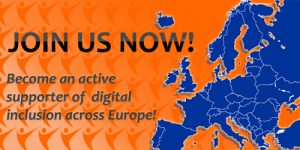 Telecentre-Europe invites eInclusion organizations to become the national branch for conducting the MIREIA online survey in their EU27 country. Let's put our organisations on the map… the European map of eInclusion!
Especially in Austria & Slovenia, where Telecentre-Europe has not yet a MIREIA partner, Telecentre-Europe is looking for a partner organization to become the national MIREIA branch.
The role of the national MIREIA branch is to help reach local eInclusion centres or networks (telecentres, libraries, e-competence centres and any other variety of community place where access and training to ICT is offered to the general public or to specific target groups) who will be asked to answer a short online survey that will be launched online on January 2, 2013.
Why to become a MIREIA branch?
You and your respondents will be part of a public database sponsored by the European Commission
You and your respondents will have the opportunity to be invited to European Commission consultations, and contribute / influence EU policies on digital inclusion and empowerment
You and your respondents will have access to an ample directory of organizations that share similar challenges and that might become your partners
You and your respondents, together with other thousands of telecentres and libraries, will have the opportunity to demonstrate collectively the extension and diversity of the eInclusion sector, but also the impact that we have in our communities
Additional benefits for your organization:
Your organization will gain visibility and promotion both at national and European level thanks to a number of synergies that are activated by this project, like the collaboration with the EC network of Digital Champions
Your organization's logo will be inserted on all communications related to the implementation of the MIREIA survey activities, next to the logo of Telecentre-Europe, funders and all other national partners
Your organization will get a more accurate knowledge of the local eInclusion sector in which it operates
You will receive a small grant of 3 EUR per filled survey in your country
Main duties:
Your main responsibilities partnering with Telecentre-Europe for the MIREIA online survey will consist in:
reach potential responding organizations that are part of your network
reach potential responding organizations that are NOT part of your network but could be considered eInclusion actors
try to reach the target responses fixed for your country
blog on Telecentre-Europe's community site about your dissemination efforts in your country and on the proceedings of the survey responses
sign a formal committment document between your organization and Telecentre-Europe
» Interested in joining us? Contact eiMAP@telecentre-europe.org