07 Sep

Kick-off meeting of new international "Use IT and enjoy" project

07 Sep, 2012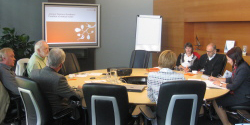 The recently started international project Use IT and Enjoy implemented by Swedish, Danish and Lithuanian partners held a kick-off meeting in Vilnius at the very beginning of September.
The project team consisted of representatives from Telecentre-Europe member organizations Aeldremobiliseringen (DK) and Langas į ateitį (LT), and of the Swedish National Pensioners' Organisation (Pensionärernas riksorganisation, PRO). The meeting was a great opportunity to get to know each other, to review project aims & objectives as well as to discuss the next project activities.