19 Feb

#HURISTO – Train the Trainers in Turin

19 Feb, 2018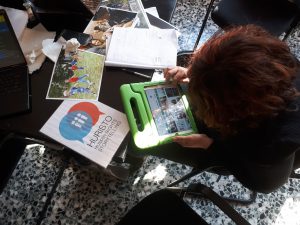 Let me tell you a story…
Digital Storytelling is not just a methodology. Digital Storytelling is also a way of sharing experience, of building links with people and getting to know each other.
Everyone has a story to tell, and this is the idea behind the HURISTO Project. Three countries, four partners but one aim: teach low-skilled adult learners how to make a digital story about their personal experience and the real time problems they face as a way to represent and give voice to the European Charter of human rights.
With this aim in mind, teachers and trainers from Belgium, Italy, and Spain gathered together in Turin to be trained on the Digital Storytelling methodology in order to become the trainers of the end target group.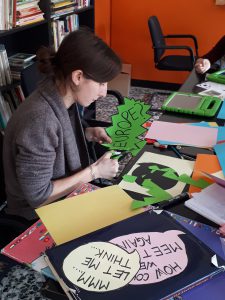 The training was delivered by Eric Gijssen from Maks over 12-16 February. Teachers and trainers spent the first days to get to know each other and learn about the methodology and its the different steps. This preparatory stage was very important to enable them to produce their own digital story and to create a friendly atmosphere that made them feel part of the same group and goal.
On 15 February the training participants challenged themselves by producing their digital stories. As a result of the previous days of training, the stories they wanted to tell were already clear in their minds, but the way that they took shape in the end, was surprisingly creative and enjoyable. Even if everyone was producing their own digital story, they worked together and they helped each other to figure out technical issues or just to share ideas. They ended up with being part of each other's stories!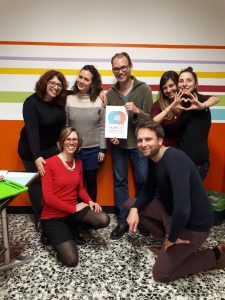 The atmosphere was really positive and inspiring, and the idea is that countries' trainers will be able to reproduce it with their students!
Project partners also had a project meeting on the evening of 15 February, during which they went through the next steps of project implementation. A project website and Facebook page will be available soon, so that everyone interested in the project will be able to follow it more closely! The project partners also arranged the next meeting in Spain at the beginning of September and the final event in Brussels in October.
After the week of training and the meeting, the HURISTO partners are looking forward to going back and implementing the methodology in their own countries. And we are sure that they will do their very best!