29 Jun

Half of EU labour force doesn't have sufficient ICT skills for finding a new job

29 Jun, 2012
An EU press release on the Digital Agenda annual scoreboard says nearly half of the European labour force (47%) is not confident their computer and internet skills are sufficient in this labour market.
The figure comes from the latest Eurostat's Community Survey on ICT Usage in Households and by Individuals, where the special module on ICT skills includes for the first time a question on "Confident use": the level of confidence individuals say they have to perform various activities using a computer or the internet.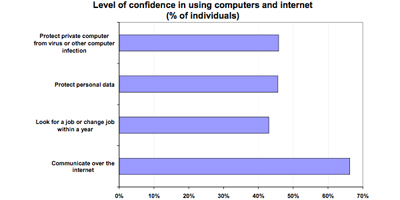 While 66% of the EU27 population between 16 and 74 believe they have sufficient skills to communicate with friends, colleagues and relatives over the internet, only 43% of Europeans say they are confident that their level of skills is sufficient if they were to look for a job or change job within a year (cfr. p18-19 of DAE's document on Digital Competences).
Looking more specifically at only those individuals in the active labour market (i.e. individuals either in employment, self-employment or actively looking for a job) shows 53% of EU27's labour force are confident their level of skills is sufficient to look for a job or change job within a year.
The Netherlands, Sweden, and the UK exhibit the highest levels of confidence with rates of 85%, 86% and 80% respectively. Denmark and Finland are also high at the ranking with rates above 65%. Conversely, five countries, Cyprus, Greece, Italy, Lithuania, and Romania, lay at the bottom of the ranking since the levels of confidence do not exceed 40%.
» watch the video: Scoreboard 2012: How digital are we?
» more on the latest EU survey: One quarter of Europeans have never gone online
» Infographic on the state of digital inclusion in Europe