04 Feb

Get Online Week 2014 to take place in March

04 Feb, 2014

Our well known campaign titled Get Online Week (GOW)  will take Europe this March 24-30th.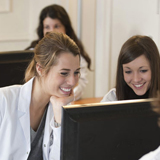 Telecentre Europe is expecting around 5000 ICT learning centres – in 30 countries across Europe – to open their doors and support thousands of people to get ICT training, certification and/or access to digital jobs.
In 2014, the main focus of the GOW will be on employment and digital jobs, consistent with the policy and industry efforts to reach higher employment rates and to better match the eSkills supply and demand. This year the Get Online Week is embedded into the eSkills for Jobs campaign led by the European Commission.
By mid-February, the campaign will have a new visual identity and an improved website that will be available at the same URL: www.getonlineweek.eu. By then, we should also have most of the national partners confirmed and can give you more info on what activities will take place in the different countries.
If you are interested to learn more about the campaign, or how you can get involved, please contact us.