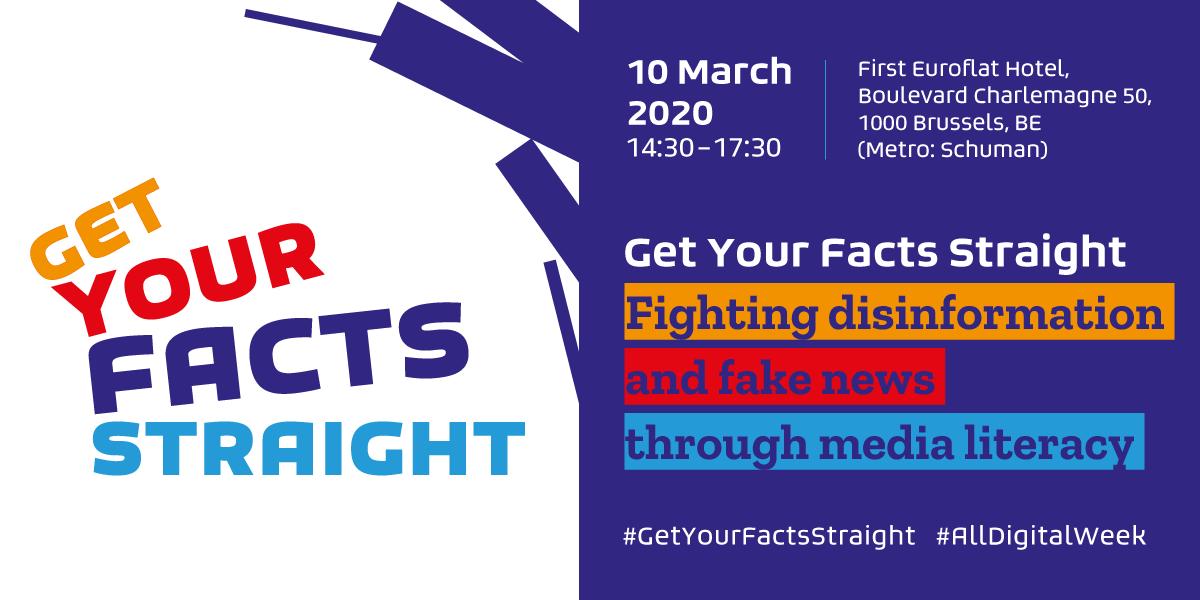 14 Feb

Get Your Facts Straight! Fighting Disinformation and Fake News Through Media Literacy
ALL DIGITAL Week launch event 2020
"Get your facts straight! 
Fighting disinformation and fake news through media literacy"
Event details 
Date: 10 March 2020, 15:00 – 17:30 (Registration and coffee from 14h30, reception from 17h30 – 19h00)
Location: First Euroflat Hotel, Boulevard Charlemagne 50, 1000 Brussels, BE (Metro: Schuman)
Format: An afternoon event in English of 2.5 hours followed by a networking reception
Web-streaming on ALL DIGITAL Youtube
Twitter chat for questions using #GetYourFactsStraight #AllDigitalWeek tagging @AllDigitalEU

Registration is obligatory: Please register here

Background
97% of Europeans have been exposed to online disinformation, 37% of them on a daily basis. Disinformation has a negative impact on society, in particular on political affairs, immigration, minorities and security.
One of the key antidotes against disinformation is increasing citizens' media literacy – pupils, adults, any end user of online content. Media literacy is recognized as the most efficient, although long-term, solution to issues such as disinformation, hate speech and social media abuse.
11 years ago, ALL DIGITAL started a European campaign on digital and online literacy then called Get Online Week to motivate Europeans to get online and benefit from the opportunities of the digital world. Today, the ALL DIGITAL Week carries on this mission. With the increasing digitalization of media, digital media literacy has become an integral part of it.
This is why we will launch the 11th ALL DIGITAL Week with a discussion on online disinformation and fake news and how to fight this phenomenon by empowering the citizen. This will also be the launch event of the first European campaign on disinformation and fake news "Get your facts straight!".
Agenda
14:30   Registration and Coffee
15:00   Welcome – Renato Sabbadini, CEO, ALL DIGITAL
15:10   Keynote speech TBC
15:30   Panel Discussion "Fighting disinformation and fake news through media literacy" 
Narrative of the panel – how can we empower citizens to become critical thinkers, to recognise disinformation and respond responsively. Which is the best formula for successful educational programmes on media literacy? Who should be involved – educators, young people, parents, journalists, platforms?
Juliane von Reppert-Bismarck, CEO and Founder, Lie Detectors
Ruurd Oosterwoud, Founder @ DROG – TBC
Paolo Cesarini, Head of Unit Media convergence and Social media – TBC
European Citizens Action Service – TBC
Mozilla – TBC
Clara Hanot, Advocacy and Fundraising Officer at EU Disinfolab

16:30   Get your facts straight! project and campaign
Presentation of the project and official launch of the campaign
17:00   Conclusions, closing remarks and photo
17:30   Networking reception