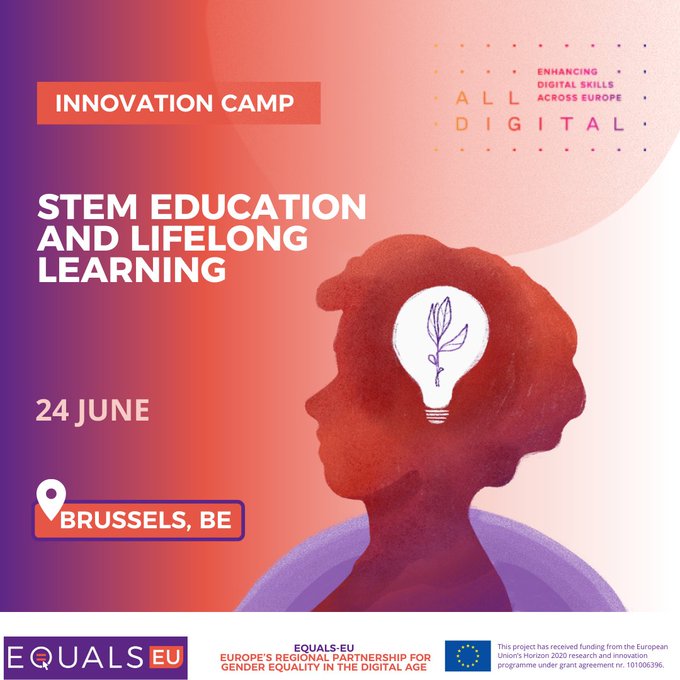 10 Jun

24.06 STEM EDUCATION & LIFELONG LEARNING / EQUALS-EU INNOVATION CAMP

10 Jun, 2022

ALL Digital launches its Innovation camp to create solutions
for gender inclusion on the topic of STEM education and lifelong learning

TO REGISTER, PLEASE CLICK HERE

As part of the EQUALS-EU Regional Partnership for Gender Equality in the Digital Age, ALL Digital launches a INNOVATION CAMP dedicated to STEM Education and lifelong learning in Brussels, Belgium on 24 June.

The innovation camp is one of a series of hackathons and innovation camps taking place in 24 countries as part of the EQUALS-EU project.

The outcomes of the group work from the participoants will be judged by a panel of experts on the topic.

The registration for participants is open until 19 June. The event aims to highlight the potential of women, girls, non-binary people, transgender women.

For each event, teams will develop new gender equity solutions for women and girls' digital inclusion. Each event will focus on the needs of the local cultural context. At the end of each event, a jury of experts and peers will select a solution and team, which will go on to attend the incubator program in 2022. This activity will also synthesis the results of the events to create a roadmap for promoting gender-inclusion innovation.

The 24 winning teams of the Equals EU hackathons and innovation camps will receive the opportunity to further develop their work into a startup through mentoring and training.

About ALL DIGITAL

All Digital (previously known as Telecentre Europe) is a leading pan-European association based in Brussels, representing member organisations across Europe that work with 25,000 digital competence centres. We focus to support Europeans that have an insufficient level of digital skills. That means that they're having less chances to find work, to use online services, to have a better quality of life, to be included in today's society.

About the EQUALS-EU project

EQUALS-EU Regional Partnership for Gender Equality in the Digital Age is an international project implemented by 19 project partners from Europe and beyond under the leadership of Oslo Metropolitan University. It started in January 2021 and will conclude in December 2023. The project is funded by the EU Horizon 2020 Framework Programme.

It aims to build capacity in gender-inclusive innovation in Europe and partner countries worldwide with an ambitious and value-driven agenda. EQUALS-EU is centred around four key activities that leverage expertise from global leaders in gender-inclusive innovation and new ideas and commitment of future female leaders.
Map gender-inclusive innovation ecosystems in 20 countries
Host innovation camps and hackathons in 24 countries
Run a six-month incubator program focused on gender-inclusive entrepreneurship
Hold a one-month boot camp for future leaders in gender-inclusive innovationPress contacts
Learn more about the project at www.equals-eu.org-
Twitter: https://twitter.com/Equals_EU
LinkedIn: https://www.linkedin.com/company/equals-eu/
Instagram: https://www.instagram.com/equalseu/
Facebook: https://www.facebook.com/equalseu
Hashtag : #EqualsEU #EqualsEuHackathons