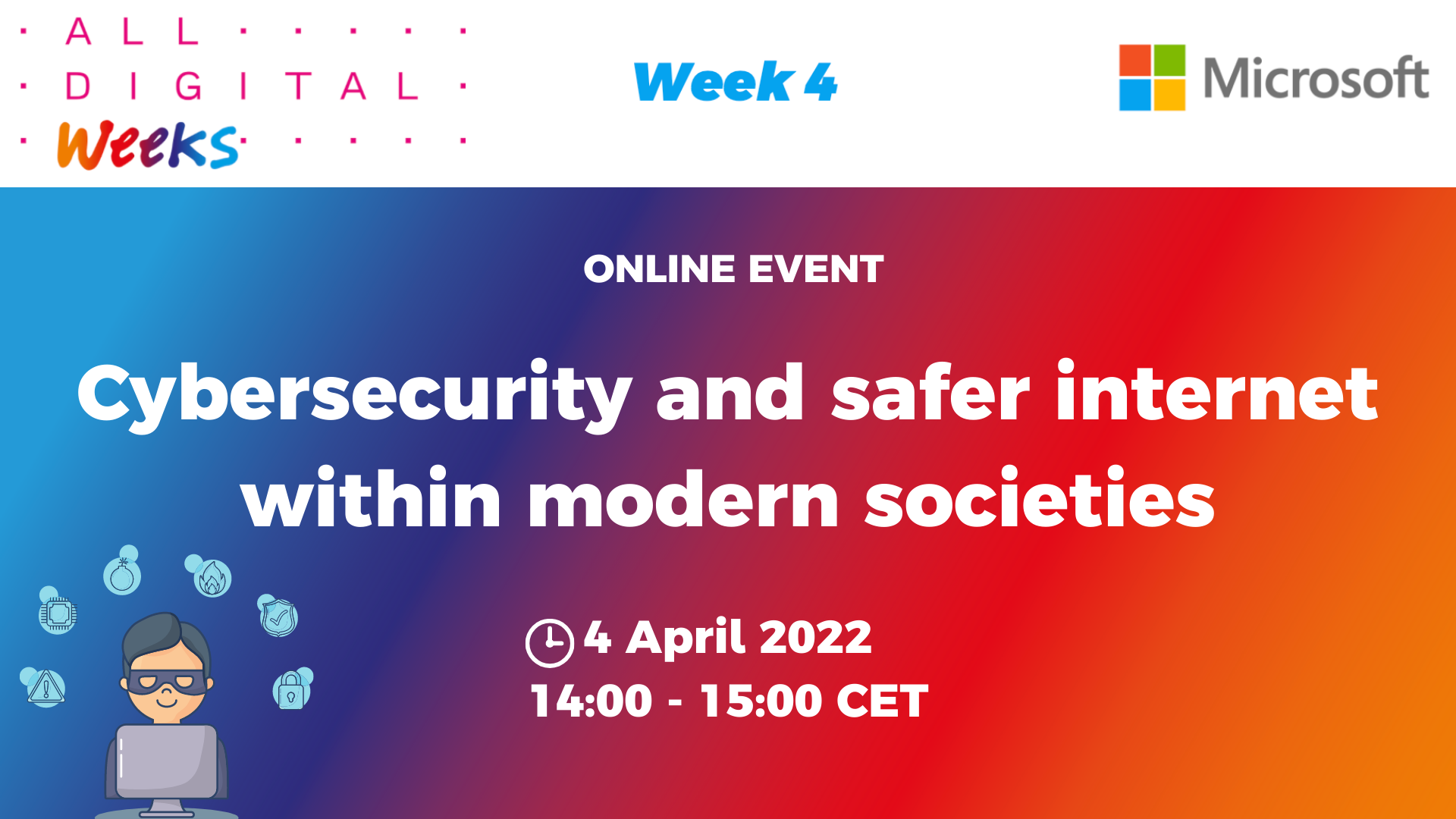 30 Mar

04.04. Cybersecurity and safer internet within modern societies

30 Mar, 2022

The Week 4 launch event of the ALL DIGITAL Weeks 2022 campaign will focus on key relevant topics within cybersecurity such as data protection, especially related to AI and IoT devices, regulations, and features on one hand, and rights and perception of users on the other one, and overall strategies and support that might be developed and promoted to enhance digital skills and awareness on cybersecurity related topics to Europeans.

A special remark will be made about the effects and impact of cybercrimes on young generations, supporting the promotion of the European Year of Youth.

Internet and pervasive technology as AI have become an integral part of children and young people's lives. The increased time spent online is prompting questions about whether they are in control of their internet usage, digital identity, and data sharing and what we can do to make the internet a safer space. In fact, the low level of awareness of cyber threats and their potential impact is a significant issue that translates into the proliferation of incidents, thus 86% of Europeans believe that the risk of becoming a victim of cybercrime is rapidly increasing. At the opposite, emerging technologies provides opportunities to engage communities and stimulate active citizenship especially among young people.

The event is therefore focused on overviewing the risks and threats the young generations are facing within the digital environment and which actions and activities we are developing and could develop further as a community and society; how to better protect personal data, perceive the ownership of personal data and which challenges businesses are facing to manage correctly data, in compliance with GDPR policy and law; and overall how confident citizens are in sharing data also for active citizenship purposes thanks to AI technologies.

Watch the event here

AGENDA

14:00-14:05 Welcome by Peter Palvolgyi (ALL DIGITAL)

14:05-14:15 Threats and risks for younger generations by Una O'Sullivan (Microsoft) (Presentation)

14:15-14:25 Rayuela project approach by Claudia Matera (ALL DIGITAL) (Presentation)

14:25-14:35 Data Protection strategies by Sylvain Le Bon (Startin'blox) (Presentation)

14:35-14:45 Citizens' active engagement through data sharing by Federico Bomba (Sineglossa)

14:45-14:55 Q&A and open discussion

14:55-15:00 Closing remarks

Invited stakeholders are:
Una O'Sullivan, Corporate Affairs Manager, Microsoft
Sylvain Le Bon, Startin'blox
Claudia Matera, Chief Development Officer, ALL DIGITAL
Biographies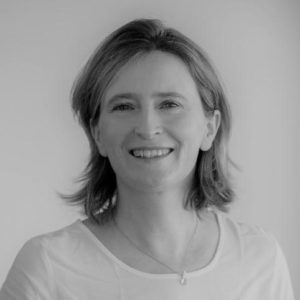 Una O'Sullivan
Corporate Affairs Manager and Corporate, External & Legal Affairs, Microsoft Europe
Una O'Sullivan works as Corporate Affairs Manager at Microsoft within the Corporate, External and Legal Affairs Europe team, based in Paris. During her time at Microsoft, Una has held a number of different roles, including leading the Corporate Social Responsibility strategy in Western Europe, implementing global philanthropies skills initiatives and technology for non-profits programs. Una has also managed European advocacy campaigns relating to technology in areas such as skills, innovation, cloud and digital safety. In her current role, Una co-leads Microsoft's digital safety programmatic work, including the Microsoft Council for Digital Good Europe youth initiative.
Una also represents Microsoft on the European Advisory Board of Kids in Need of Defense Europe.
Prior to joining Microsoft, Una worked in marketing roles in the small and medium business sector.
Originally from Ireland, Una graduated in business and languages from University College Dublin and University College Cork.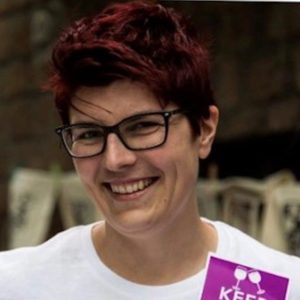 Claudia Matera
Chief Development Officer at ALL DIGITAL
Dr. Claudia Matera is Chief Development Officer at ALL DIGITAL. She has more than 10 years' experience as researcher and Project Manager for EU funded projects internationally within Universities (Sapienza, University of Rome, Link Campus University, City University, LCCM and ACM in the UK) and worked extensively as sector expert consultant for SMEs and public organisations (as CLOCK and Kunstbedrijf Arnhem, NL). She holds a PhD and an MA in History of Art carrying out research on emerging technologies for Cultural Heritage and education with a specific focus on both non-formal and informal practices combined with formal methodologies, game-based and blended approaches for adults and young adults training activities. Since 2012, she works as game designer, leading for few years a Indie Game company, exploring gaming and gamified approaches for education. Her overall working experience has constantly been linked with entrepreneurial skills within the Creative and Cultural Industries looking at educational activities to empower the CCIs sector. For this purpose, she holds a Professional Development Awards for the Creative and Cultural Industries (PDACCI) in both Cultural Learning and Business Development. Innovation is her key focus especially with emerging technologies and education.
Sylvain Le Bon
Co-founder of Startin'blox
Sylvain Le Bon is a telecommunication engineer and has been an entrepreneur for more than 10 years. He is the co-founder of Startin'blox, and an expert in interoperability of data on the web.
Federico Bomba
Artistic director of Sineglossa
After an MA in Analytical Philosophy at the University of Bologna and a master in performing arts, he directed shows represented worldwide until 2014, when he founded Sineglossa, a research center and cultural enterprise.
He deals with creating phygital ecosystems in which artists, scientists, entrepreneurs and public administrations cooperate to produce economic and social development.
Multimedia designer in the ADI Design Index, artistic director of art+b=love(?) Festival, scientific director of the book series Nonturismo/Ediciclo – Itas Award/ best guide to Mountain 2020 -, advisor for art&science projects for Le Serre dei Giardini Margherita/Bologna and scientific coordinator of AI4Future. He is a contributor for several online and offline magazines of contemporary art, urban regeneration and cultural economy.