30 Sep

Congratulations to ALL DIGITAL Awards 2021 Finalists

30 Sep, 2021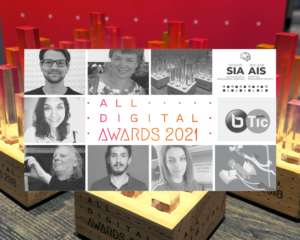 The 2021 edition of ALL DIGITAL Awards is almost over. This year we have had three categories and as always many entries for e-facilitators and digital changemakers, more than ever entries for digital resources. Applications have been checked, the Jury have done their work, the e-facilitators have been voted for, and the results are in!
Many thanks to all the nominators who have shared the stories of e-facilitators and changemakers and also shared the digital resources they have found useful in their work.
Special thanks go to the JURY – our ADVISORY BOARD members – who assessed all the applications during August.
And here are the FINALISTS of ALL DIGITAL Awards 2021!
ALL DIGITAL AWARDS 2021 – FINALIST:
BEST DIGITAL CHANGEMAKER CATEGORY: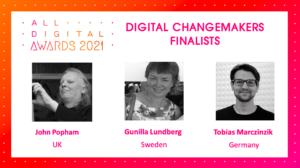 John Popham, UK – nominated by Pauline Roche
Tobias Marczinzik, Germany –  nominated by Lara Zeyßig
Gunilla Lundberg, Sweden – nominated by Omar Aweis, Germany –  from Lara Zeyßig
BEST E-FACILITATOR CATEGORY: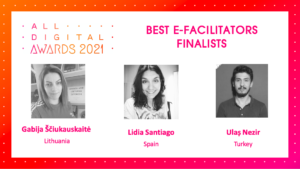 Lidia Santiago López, Spain – nominated by Xarxa Punt TIC
Gabija Ščiukauskaitė, Lithuania – nominated by Kaunas District Municipality Public Library
Ulaş Nezir, Turkey –  from Ramadan Aliti
BEST DIGITAL RESOURCE CATEGORY: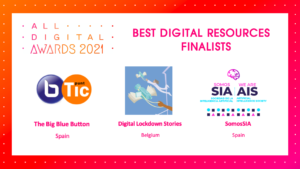 "The Big Blue Button", Spain- created by Technical Support, Facilitation and Administrative Office of Xarxa Punt TIC and Government of Catalonia
"SomosSIA", Spain – created by Digital Agenda Department – Government of Extremadura & AUPEX
"Digital Lockdown", Belgium – created by Media Actie Kuregem Stad
CONGRATULATIONS TO ALL THE FINALISTS!!!
The winners will be announced at the Awards Ceremony on 13 October online in Brussels, as part of the ALL DIGITAL Summit. You can register until 11 October.