04 Oct

Community engagement is flourishing at Telecentre-Europe's community site

04 Oct, 2012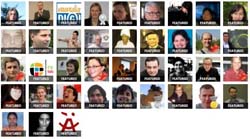 Now that the holiday months are over, the Featured Community Contest at Telecentre-Europe's community site is becoming ever more popular.
In september, 39 members decided to take up activity and blogged, published, shared, commented, congratulated & flagged as never before. Also: 8 new persons joined the community site!

More then 65 actions were performed during the month and again 3 of all those Featured Members were awarded with a Gold, Silver and Bronze medal as Top Members and WINNERS of September's Featured Members Contest:
Gold Medal: Lukasz Nikitin (Krakow, Poland), who published the blogpost Generation 50+. Convincing them to go digital.
Silver Medal: Karolina Jasvinaite (Vilnius, Lithuania), who published the blogpost Kick-off meeting of new international "Use IT and enjoy" project
Bronze Medal: Tine Munch Pedersen (Copenhagen, Denmark), who published the blogposts Seniors laugh their way to digital skills & Learning about ICT in Denmark and the event Danish Seniorsurf-day
The Featured Member Contest is becoming more popular every month: in August 26 Members became Featured,  in July 21 and in June 14.
» October's Featured Member Contest is running: Contribute And You Will Be Featured!
» The Rules of the Game