19 Nov

CodeMob Toolkit on teaching coding and mobile devices in telecentres

19 Nov, 2017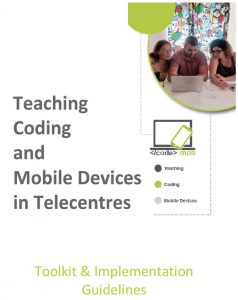 We are pleased to present a final Toolkit of the CodeMob project, which is aimed at teaching coding and the effective use of mobile devices in telecentres. This Toolkit presents the two training curricula, introduces the online learning platform, and also gives practical tips on how to implement such training programmes in telecentres or other digital training centres.
The training programmes were designed and piloted by four ALL DIGITAL member organisations: Interface3 (Belgium), Telecentar (Croatia), El Teb / Colectic (Spain), and ComNet (Hungary), and supported by the Technical University of Dortmund.