30 Jan

1.000 organizations already on the EU map of eInclusion

30 Jan, 2013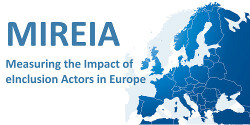 During week 4 of the survey, the number of organizations that have filled the MIREIA survey has doubled: more than 1.00o eInclusion actors have now put their organisation on the EU map.
We hope at least another 1.500 organizations will soon fill the survey before February 15th!
Results are now coming from almost all countries, and countries like Romania and Sweden have booked amazing results this week, reaching their targets in just 1 week time!
For Estonia, Greece & Cyprus TE has found a dissemination partner only very recently, and we are still waiting to sign a partnership agreement with an organization in Austria, Slovenia & Finland…
Telecentre-Europe is calling upon all eInclusion actors in the EU27 to fill the survey and asks all its stakeholders for a maximum dissemination of the MIREIA survey.