26 Nov

WSIS Project Prizes 2013

26 Nov, 2012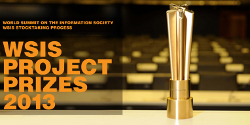 The WSIS Project Prizes is an annual contest which recognizes excellence in the implementation of projects and initiatives which further the WSIS goals of improving connectivity to information and communication technologies (ICTs).
The WSIS Project Prizes 2013 contest is open to all stakeholders including governments, the private sector, international organizations, civil society, regional and international agencies, research institutions and others. Interested parties are invited to nominate a project by completing the online form at www.wsis.org/prizes.
The deadline for submission of project descriptions is 31 January 2013.