24 Sep

Visits from the Secretariat of the Digital Skills and Jobs Coalition to National Coalitions

24 Sep, 2017

Activities from national coalitions are moving forward, and the Secretariat of the digital skills and jobs coalition was fortunate enough to meet and collaborate with national coalitions in reviewing key actions of the past year and plan for a better digital future together.


If you want to stay up to date with the news from the Digital Skills and Jobs Coalition, please subscribe to the newsletter.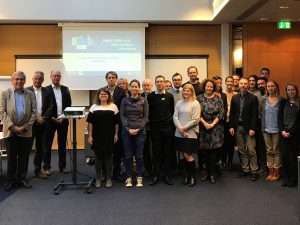 On 19 September, the secretariat visited the National Coalition in Luxembourg. Luxembourg is one of the newest coalitions in the DSJC, formally launched only in May 2017 at an event attended by over 800 stakeholders and, it's clear, there already is an important impact. Since their inception, the 46 members of the national coalition managed to train at least 3824 people. This includes refugees in basic digital skills, women in ICT and cybersecurity, unemployed people, youth and reskilling of professionals. Luxembourg being a small country is facing a shortage of 1500 professionals in the IT and ICT sector.
Read more on activities of the Luxembourg coalition
On 20 September, the National Coalition in Lithuania was visited on a important day on the Lithuanian Digital Skills landscape "Computer Days – 2017" at the Kaunas University of Technology. Computer days, develop a multifaceted program of events that would be interesting and useful for the largest possible team of Lithuanian computer specialists: computer professionals and users, scientists, teachers and teachers, politicians, representatives of companies, trade unions and public institutions. The conference presented scientific research and use of practical technologies, a School Informatics Conference – sharing of information technology teaching their use in school and integrated training experiences, introducing new computer teaching aids, discussing information technology teaching materials and finally a Lithuanian remote and e. learning conference.
ALL DIGITAL Member Langas I Ateiti is coordinating the coalition in Lithuania. Read more on the Lithuanian coalition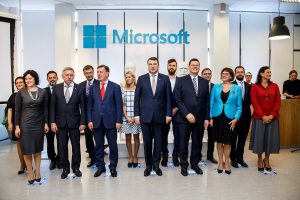 In Latvia the first Microsoft Innovation Centre in Baltic countries and Northern Europe opened on 13 September in Riga. The Microsoft Innovation Centre  is the first technological innovation platform of its kind in the region. Objective of this centre is to strengthen the cooperation between partners of the ICT industry, science, non-governmental organisations and public sector, development of export capable IT solutions and digital transformation within Latvia.
Innovation Centre will be open to all, providing opportunities to participate in seminars, research, upgrading digital skills and getting involved in projects.
The location of the University's of Latvia and Microsoft Innovation Centre is Rīga, Kalpaka Boulevard 4. Learn more
ALL DIGITAL member LIKTA is coordinating the coalition in Latvia.