23 Jan

Telecentre.org Foundation's Annual Report for 2011

23 Jan, 2012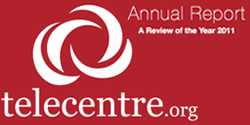 Telecentre.org Foundation's 2011 Annual Report is now available for download.
This 10-page report presents a summary of the Foundation's accomplishments during the year 2011 as it strived to impact the telecentre community by working towards strengthening telecentre network presence, launching a global telecentre women campaign, enhancing knowledge sharing, and helping to develop competent knowledge workers. A brief summary of financial statements is also provided.