30 Jun

Telecentre Europe Awards 2016: Apply now and win a trip to Ghent!

30 Jun, 2016

Telecentre Europe has established the Telecentre Europe Awards to recognise the achievements of individuals and organisations across Europe that enable people to get to grips with technology.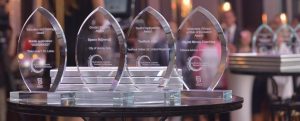 Thousands of individuals and hundreds of organisations around Europe work daily with communities to empower citizens through technology and the Internet: from teaching digital literacy and online safety to carrying out transactions with government and boosting entrepreneurship, from supporting young people's employability to uniting different stakeholders for ensuring digital inclusion.
Telecentre Europe Awards acknowledge their innovation, dedication and the inspiring role they play to many people. 
What we celebrate
In 2016, Telecentre Europe Awards will recognise individuals and organisations in four different categories:
Follow the links above to see the full description, assessment criteria, and an application form for each category.
Win a trip to Ghent!
The three finalists in each category will be invited to attend the Telecentre Europe Annual Conference organised in Ghent, Belgium, on 6-8th October 2016.  
All finalists will be entitled to FREE accommodation (1 person for 2 nights). Award winners (one in each category) will also have their travel expenses covered by Telecentre Europe.
Awards
The Awards ceremony will be held in Ghent, Belgium on the evening of the 7th October 2016 in the beautiful Ghent City Hall.
All finalists will receive certificates and gadget prizes and will have the opportunity to present their initiatives to an audience of 150 participants.
Eligibility criteria
Entries will be accepted from organisations and individuals who work in wider Europe (not limited to EU28) in the field of digital inclusion and employability.
Terms and conditions
Nominations must be completed in English and submitted through online forms, indicated in each category description.
Deadline for applications: 15th August 2016
The winners in the two individual categories (Best E-Facilitator and Best Digital Changemaker) will be selected directly by the public online voting.
For the two organizational categories (Best Multi-Stakeholder Partnership and Best Practice), a jury will assess the nominations against a set of criteria and choose the best five. These selected five will then enter the online voting.
Timeline
Submission deadline:    15.08.2016

Evaluation:                      16.08-26.08.2016

Public voting:                  29.08-09.09.2016

Announcement of winners: 12.09.2016