18 Jun

Telecentre-Europe at the Digital Agenda Assembly

18 Jun, 2011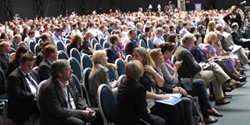 A team of Telecentre-Europe representatives (Ian Clifford, Mara Jakobsone, Juan Francisco Delgado and Pedro Aguilera) attended the European Commission Digital Agenda Assembly that took place on 16-17 June 2011.
Ian spoke in the workshop on Digital Literacy on the role of telecentres in supporting people to use technology, and the impact it has on their lives. Both Mara and Ian were involved in the breakout sessions on SMEs and Employability, while Telecentre-Europe's video about Get Online Week 2011 was shown during the plenary session among other Digital Agenda for Europe video contributions.
Over 1,300 people attended the two day event in Brussels. A comprehensive overview of the workshops and videos from the plenary sessions are available at the workshop results page.