10 May

Strategic plan for 2018-2020 adopted by the General Assembly

10 May, 2018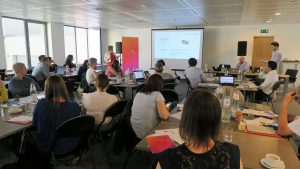 The new strategic plan was presented, debated and approved by ALL DIGITAL General Assembly on 8 May in Brussels.
The ALL DIGITAL 2018-2020 Strategic plan has been developed against the backdrop of a society where digital literacy is recognized as a key life competence, as essential, as numeracy and literacy, but in which almost half of Europeans lack basic digital skills.
The strategy of ALL DIGITAL is constructed around the strategic priorities, audiences, and services of our member organisations. ALL DIGITAL exists to serve and guide its members, supporting them to grow, develop and improve their services and to increase their impact.
OUR VISION: We believe that every European should be able to exploit the benefits and opportunities created by digital transformation.
ALL DIGITAL aspires to achieve this vision by equipping European citizens with digital skills, with confidence, and with a mind-set that allows them to understand and benefit from the digital transformation of society.

This is what drives us, what defines our priorities and what underlies the distinct role that our network plays in Europe.
OUR STRATEGIC PURPOSE is to consolidate our role as a leading European network to reinforce and make the case for digital competences obtained in non-formal settings such as digital competence centres.


OUR STRATEGIC GOALS:
1) Ensure sustainable development of membership and effective participation of members and stakeholders
2) Provide leadership, inspiration, and knowledge based on our first-hand experience in the area of digital competences
3) Lead policy transformations at EU and member states level
4) Strengthen engagement with partnerships and alliances with industry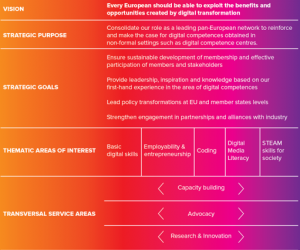 Thematic areas of interest:
Basic digital skills
Employability and Entrepreneurship
Coding
Digital Media Literacy
STEAM skills for society
Priorities for 2018
Promotion and exploitation of DigComp framework
Digital competences for jobs
Build trust in technology
Digital social innovation
Contribute to the European Year of Cultural Heritage

See the Strategic Plan 2018-2020
We are excited by the new challenges and will work together with our members to put the plan into action.