08 Mar

Special March 2016 newsletter issue on International Women's Day!

08 Mar, 2016

By Telecentre Europe on March 8, 2016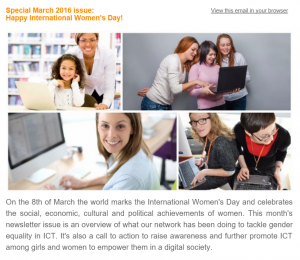 Special issue:
This month's newsletter issue is an overview of what our Telecentre network has been doing to tackle gender equality in ICT. It's also a call to action to raise awareness and further promote ICT among girls and women to empower them in a digital society.
Telecentre Europe also presents its policy position on gender equality in ICT prepared by Interface3.
Stories on empowering women with ICT were shared by our members:
Interface3 (Belgium)
Simbioza Genesis (Slovenia)
The Association Study Center City of Foligno (Italy)
FIT Ltd. (Ireland)
» Read our special March issue online
» Get it delivered to your mailbox by filling in our online subscription form