10 May

Spanish Telecentre Networks join forces for capacity building

10 May, 2012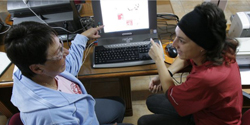 The Spanish 
Telecentres and ICT Spaces Academy launches today a new training cycle for may-june 2012, historically the 19th edition, but in fact the first one with a new dynamic: the initiative is developed in a context of alliance among a big number of organizations both, public and private, bringing together most of telecentres and networks in Spain.
This alliance includes a sustainiblity strategy – all parts bring something to the whole – showing us that maybe this is the way to move forward and consolidate a more sustainable model of the Academy. This involves the cycle to be a closed one, only accessible for those facilitators who are members of organizations and networks belonging to the alliance.
The initiative is led by Telecentre-Europe member organizations Community Telecentre Networks Association and Esplai Foundation joining both organizations' synergies in a powerful proposal addressed to train professionals in ICT and to further advance the systems of their qualification and certification.