10 Oct

IT Services Management training for SMEs in Czech Republic

10 Oct, 2012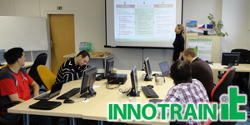 This fall, the Czech partner EPMA launches the final phase of the Innotrain IT project, which aims at increasing the effectiveness of small and medium enterprises (SMEs) in terms of their IT usage.
The emphasis of the project lies in improving IT Service Management (ITSM) in these companies, which should lead to the strengthening of their innovation processes and products. In general, the project aims at improving knowledge about ITSM and at tackling barriers to innovation present in SMEs in Central Europe.
Most of the participants who attend the training approach the topic with reserve; many have little idea what to expect from ITSM; and many are afraid to show this uncertainty; therefore, it tends to be difficult for the trainers to "break the ice" in the initial stages of the lessons.