14 Oct

Novi Sad Humanitarian Center

14 Oct, 2010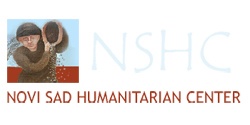 Novi Sad Humanitarian Center is a non-profitable, charitable organization which contributes to creating a humane society by providing support for the vulnerable and marginalized groups and encouraging civil activism, research and education.
In partnership with governmental and non-governmental sector, NSHC contributes to the development of non-formal education, health promotion, improvement of social policy and employment policy in Serbia.
NSHC was founded in Novi Sad in 1998. Our associates are psychologists, social workers, medical doctors, adult education specialists, professors, economists and other professionals.
NSHC's projects are financed by donations coming from international non-governmental organizations and from the provincial and republic government. Apart from that, volunteers and citizens significantly support our work with their contributions.