03 Oct

Miguel Raimilla appointed as Executive Director at Telecentre.org

03 Oct, 2011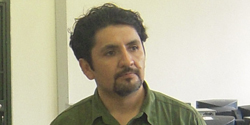 Following an extensive search among several highly qualified candidates, Telecentre.org Foundation is pleased to announce that Miguel Raimilla has been selected as Telecentre.org Foundation's newest Executive Director.
Miguel, a Chilean native based in California, is a Social Entrepreneur and the founder of several multinational/multicultural initiatives linked with youth, social development, and social enterprise throughout Latin America, Asia, Europe, and the United States. Among these initiatives are World Corps, OneRoof, and his most recent endeavor, Channel International – all of which encompass the different local expressions of ICT4D worldwide.
» Read more at Telecentre.org
» Read Miguel Raimilla's post on Telecentre-Europe's summit in Istanbul