30 Oct

Local and National Coalitions for Digital Jobs Meet in Rome, Italy

30 Oct, 2014

On 29th of October 2014, the European Commission (DG Connect) together with Telecentre Europe and the Grand Coalition Secretariat organized a workshop called Strengthening National and Local Coalitions for Digital Jobs, linked to the closing event of the eSkills for Jobs campaign taking place the day after. National and Local Coalitions workshop and its outcomes are expected to contribute to policy orientations of the next Commission in the area of digital skills and jobs, just before its installment in Brussels.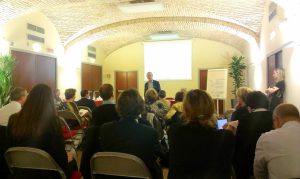 The workshop was a unique opportunity to bring together existing National and Local Coalitions, as well as Coalitions that are under formation and take stock of their progress made so far. Forty participants joined the meeting that focused on the exchange of best practices and knowledge, exploring ways to strengthen existing coalitions and set up new ones to create more buzz, raise awareness and take Grand Coalition actions at national and local level.
Plenary presentations on best practices and the state of play were followed by two interactive sessions with a structured approach on key areas where coalitions could contribute and share best practices that can be replicated by other coalitions.
Telecentre Europe team and members from Italy, Spain, Portugal, Ireland, Slovenia, Slovakia, Lithuania and Latvia actively contributed to a lively and interactive workshop. Most of these members are partnering in a newly EU funded project called Delivering on Skills for Growth and Jobs. The project represents an example of how coalitions can get together and collaborate transferring innovation and knowledge, in this case, FIT Ireland's Training for employment programme.
The meeting conclusions are not published yet, but here are some ideas that we take home following the discussions:
There should be more clarity and transparency on EU funding opportunities relevant to coalitions;
Coalitions can reach a higher impact and will be more sustainable if national governments, encouraged by the EC, are actively involved and supporting them;
Training and certification are most relevant action areas for coalitions (one of the best practices highlighted was Get Certified. Get a job. – a certification campaign by Microsoft and Telecentre Europe, giving 10,000 free Microsoft Office Specialist and Microsoft Technology Associate vouchers to young and unemployed in 10 countries);
The digital toolkit for coalitions developed by the Grand Coalition Secretariat, presented during the workshop by Telecentre Europe, will be improved and updated constantly and collaboratively with the coalitions. It will host the best practices and tools helping coalitions to be formed and managed.