11 Jul

Librarians win Awards for best story & photo of Romanian Get Online Week

11 Jul, 2012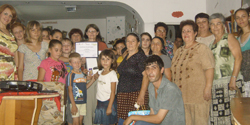 On July 2nd & 6th , Telecentre-Europe's Romanian member organization EOS Foundation organized the second and third Award Ceremony for the winning telecentres of the "Hai pe net" contest, the Romanian version of TE's Get Online Week campaign.
Among the winners of the "Hai pe net" awards, is the Medias Public Library (Sibiu County), who won the first prize in the category of "Most relevant Success Story". During the Awarad Ceremony on July 2nd, the prize was handed over to local librarian Antonela Sofia Barbu, who managed to involve different categories of community members, including people from the local Recovery and Neuropsychiatric Rehabilitation Center Medias. One of the participants is also the main character of the winning success story.
The last Award Ceremony took place on July 6th at Milosesti Public Library, a small rural area in LaLomita County. The first prize at the category of "Most suggestive photo" was handed over to local librarian Maria Stefanfor, for the photo that captured the first click of a lady of 89 years old.