05 Oct

Latvian Information and Communication Technology Association (LIKTA)

05 Oct, 2010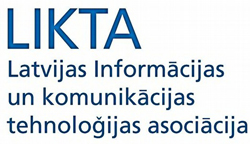 The Latvian Information and Communications Technology Association (LIKTA) is a non-governmental, professional organisation, founded in 1998.
LIKTA's main objective is to promote and further the develop­ment of the Information Society in Latvia, so that all citizens may be given the opportunity to benefit from ICT and contribute to the Knowledge-based economy.
LIKTA works toward increasing e-awareness in society and takes an active part in preparing professional ICT and digital skills programs.
The Latvia@World initiative of LIKTA aims to:
raise the levels of E-skills and competitiveness of SMEs and citizens
promote the usage of existing E-services on the Internet and facilitate the creation of new and useful content
diminish the digital and social gaps in society
provide opportunities for everyone to acquire ICT skills (regardless of age or social status)
build-up social networking through participation, communication and cooperation.