02 Mar

Foundation Supporting Physically Disabled Mathematicians and IT Specialists

02 Mar, 2012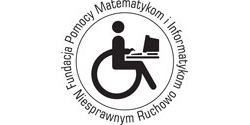 The Foundation Supporting Physically Disabled Mathematicians and IT Specialists has been specialized in empowering physically disabled people using ICT tools for 20 years.
They operate mostly in the cities of Warsaw, Opole and Białystok. They have established a network of 404 e-Centres – Public internet Access Points that serve local communities as well as the disabled in villages in Poland.
They also facilitate services for the disabled including an e-learning platform, miscellaneous counseling and employment services using IT tools. The Foundation trains people with disabilities in IT skills, including computer graphics, database management, web design, implementation of CRM solutions, software support for Office, ECDL etc.

The Foundation Supporting Physically Disabled Mathematicians and IT Specialists was established in 1990 on the initiative of mathematicians and IT specialists of the Polish Academy of Sciences with the participation of the Polish IT Association.
Initially the activity of the foundation was addressed to the community of disabled mathematicians and IT specialists but it turned out quickly that the needs were much greater. At present the Foundation helps people with all types of disability. It specialises in using modern technologies in education and professional activity. It created the first internet portal for the disabled in Poland – Internet for the Disabled, for which in 2003 it received the Award of Microsoft President, Bill Gates.
The Foundation provides professional, legal and psychological consultations for the disabled. It also runs a Job Agency and supports the disabled in finding employment. The Foundation itself employs a lot of disabled people, who constitute approximately 40% of the team. Since 2007 the Foundation has been running the e-Centres Program aimed at increasing the use of the educational potential of the nationwide network of publically available points with internet access (e-Centres).
Under the Program the Foundation developed a network of over 400 e-Centres and constantly supports their activity. At the turn of 2012 and 2013 the Foundation established cooperation with the Ministry of Administration and Digitalization and the Ministry of Regional Development in order to counteract any digital exclusion even more efficiently.