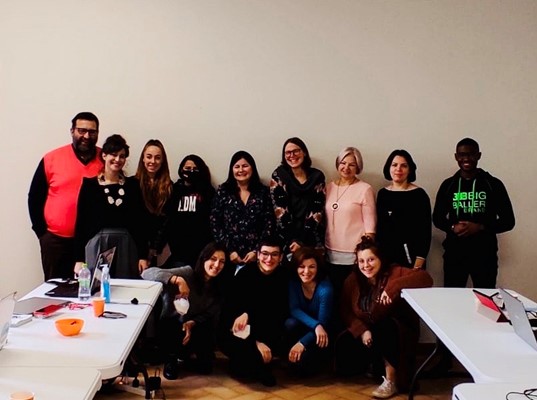 18 Nov

Foligno Training on "How to prepare an Erasmus+ KA2 project proposal" (8-12 November)

18 Nov, 2021

The five-day in-person training, part of the blended course on "How to prepare an Erasmus+ KA2 Cooperation Partnerships project proposal in the field of adult education and digital skills" organised by ALL and EGinA, was successfully held from 8 to 12 November 2021 in the beautiful town of Foligno, in Italy. The course was attended by professionals working in the adult education sector in different European countries.

The objective of the course was to provide participants with knowledge and guidance on how to design a successful funding application for the Call Erasmus+ KA2 Cooperation Partnerships in the field of adult education, with a focus on digital skills development. The training included interactive and hands-on sessions on the different steps required to develop a project proposal, delivered by expert mentors and tutors form EGInA (Laura Cremonte and Altheo Valentini) and from ALL DIGITAL (Barbara Quarta and Peter Palvolgyi). The week was also rich in cultural experiences, such as a visit and dinner in a beautiful olive oil mill in the Umbrian countryside, two guided tours of Assisi and Bevagna and several tastings of fine local gastronomy.

Participants acquired both theoretical knowledge and gained practical experience in designing project proposals. Divided into small groups, they completed different tasks related to the planning and writing a project proposal by using the different tools and templates made available by the organizers.

Participants learnt about the Erasmus+ Programme and the Cooperation Partnerships Call for proposals. They learnt how to: (i) accomplish the essential procedures to submit a proposal; (ii) design an innovative project idea in the field of adult education; (iii) produce a detailed project work plan; (iv) plan a sound project management and quality assurance; (v) organise and describe dissemination and exploitation activities; and (vi) produce a balanced budget.

The training was evaluated very positively by all the participants and was also an excellent networking opportunity! New partnerships for potential funding applications were established between the participating organisations. Participants are now ready to work on real proposals to be submitted in the freshly opened Erasmus+ Call for proposals 2022.

ALL DIGITAL and EGINA wish our participants good luck for the proposals in preparation!