28 Feb

The final careNET conference and other events in social care

28 Feb, 2014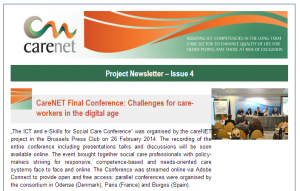 The conference about ICT and e-skills in social care took place on 26th February 2014 in Brussels. It was organised by the careNET project aimed at discussing the present challenges for care-workers. Social care professionals and policy makers together addressed the elderly acceptance of ICT, informal carers' needs, older people involvement in European initiatives and research, technology-based services in care at home to name a few. The recording of conference discussions and presentations are available online.
The careNET Consortium also invites organisations to join the Open Pilot experience. Participants will benefit from a map of domains of competences, a learning path and learning resources, and other tools of the Virtual Learning Environment.
In February the first outcomes of the careNET project were discussed in Spain and France by the piloting partners FBIS and IPERIA.
For more details about the events, please check the project newsletter.