29 Apr

Smart cities for smart citizens

29 Apr, 2020

Date and time: 20 May 2020, 13:00-15:30

Why?

This webinar is organized under the framework of the DevOps competences for Smart Cities (DevOps) project that addresses the shortage of digital and transferrable skills in the municipalities' smart cities sector and will support this sector's employees in their professional development. Results are expected to benefit smart cities and municipalities which aim to adopt the DevOps culture, principles and practices by introducing DevOps professional profiles.

For whom?

The webinar is aimed at smart cities and their employees, digital skills training providers and people working in the Smart Cities sector, but it is also for anyone who would like to learn:
What does the Smart City of the future look like and what are the skills that people behind the smart cities need to get there?
What are the skills of the smart citizen of the future?
What is DevOps as a software development approach, and how can it be applied to Smart Cities?
How is the Smart DevOps project going to support municipalities to become Smart Cities?
What?
The webinar will include contributions from experts on:
Will Future Cities still be Smart?

– Martine Delannoy, Chief Foresight Officer, Digipolis Ghent

Building capacity for a sustainable digital transformation of cities

– Davor Meersman, CEO of Open and Agile Smart Cities
Smart citizens' skills – Kasper Van Hout,

European Programmes and International Relations Expert, 

Murcia Municipality, Spain
DevOps approach – Panagiotis Lambetidis, Sword Group
DevOps project – Panos Fitsilis, DevOps project coordinator, University of Thessaly
Moderator – Nikolaos Kontinakis, acting project director at EUROCITIES
See all speakers on the project website
Read the posts about the event: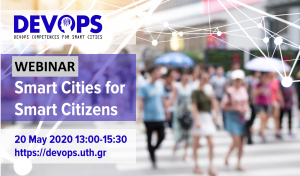 PROGRAMME
20 May 2020 / 13:00 – 15:30

13:00 – 13:10

Welcome by ALL DIGITAL CEO Renato Sabbadini
Intro into the topic by the moderator Anna Lisa Boni

13:10 – 13:30

Will Future Cities still be Smart?

13:30 – 13:50

Building capacity for a sustainable digital transformation of cities

13:50 – 14:10
Smart citizens' skills
14:10 – 14:20
 Break
14:20 – 14:40
DevOps approach
14:40 – 15:00
DevOps project

15:00 – 15:30
Q&A/Discussion with participants