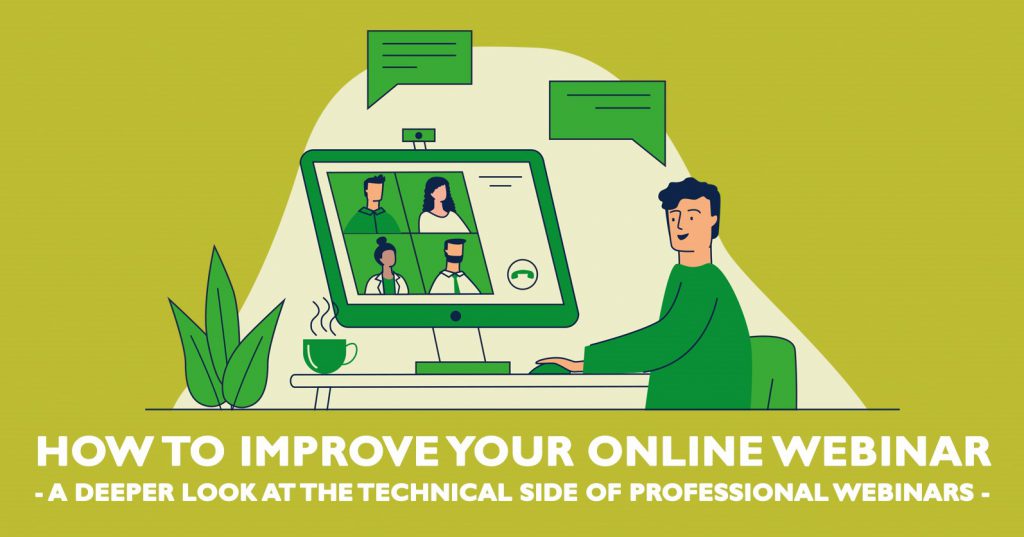 25 May

How to improve your webinar

25 May, 2020

How to improve your webinar: a deeper look at the technical side of professional webinars

MAKS vzw and ALL DIGITAL invite you to the webinar about webinars on 11 June at 14:00-16:00 CEST

Why?

During the lockdown caused by COVID-19, many of us have been facing many new challenges. One of which was related to translating and moving our off-line activities to an online environment. Video conferencing became the solution but the limitations of the accessible platforms became quickly apparent:
Wait, the audio of my video is not coming through?
Why is my programme running fluently on my computer, but for my participants it looks like a choppy slideshow?
Why is Jitsi not recognizing my webcam while it works in Skype?
Why are my participants also hearing themselves?
Can't I use multiple webcams at once so I can show something while explaining something?
When our member MAKS vzw organised an online seminar on Digital Storytelling for teachers and youth workers in April, they were confronted with these and many more technical shortcomings. Luckily, they found free solutions for all of them and they actually work for all the platforms they've tested them on: Google Meet, Microsoft Teams & Skype, Jitsi, Zoom… but even for streaming platforms as YouTube and Twitch!
After attending many other webinars our colleagues noticed many partner organisations are struggling with the same problems so we decided to share our know-how! Especially now that it seems that online webinars will be more and more prevalent.
For Whom?
Everyone who wants to improve their online presentation, wants to host a webinar that involves more than just a simple PowerPoint, or just everyone that wants to impress their contacts during an online meeting 😉
Some technical background is required but we'll keep things as simple as possible.
This webinar is currently only focusing on solutions for Microsoft Windows 10, but we'll briefly touch on (untested) possibilities for iOS and Linux as well. Access to the admin account of the PC is required for the installation of the involved software.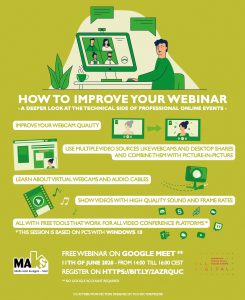 What & Programme
We will focus on the following aspects:
Share your screen at a higher frame-rate than the built-in "share screen" options of video conference platforms.
Keep the interactivity of a webinar while also being able to play videos with high quality sound and frame rate.
Learn how to use the free programmes Open Broadcaster Software Studio, OBS Virtual Webcam, Voice-Meter Virtual Audio Cable and Voice-Meter Banana and combine them with any (video conference) programme you already use.
Learn how to use multiple video sources like multiple webcams, desktop shares and switch between them or combine them like a real professional live video studio.

How to join?
You need to register by using the form below (will be available shortly).
You will receive the Google Meet link after registration.
Attending the webinar is completely free and the presentation will be shared afterwards with all the attendees as well.