19 Dec

ECP Foundation

19 Dec, 2011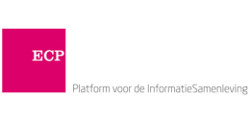 ECP Foundation is a non-for-profit association that was established as a public-private partnership in 1997 by government, business representatives and NGO's in the Netherlands.
Its mission is to contribute to the development of an information society in which social coherence and economic opportunity can flourish.
ECP has 20 staff members, a board and an Advisory Board. Chairman of the Board is Frank Heemskerk, former State Secretary and Board of Directors Royal Haskoning. Members of the Advisory Board are CEO's and Chairmen of different organisations and also include Prince Willem-Alexander of Orange, Crown Prince of the Netherlands.
ECP has a very strong position as both think tank and programme-bureau related to information society with a very well established network in both public and private top level circuits. In Europe ECP is a recognized partner in policy-levels and also a programme partner in different EU-projects. ECP (employment organisation Prosec) has functioned as Awareness Node on safer Internet in the Netherlands since 2006.
The activities of the Awareness Node are accommodated within the national public private program Digibewust, which has the objective to make Dutch citizens aware of possible risks of using Internet and other digital means. The program Digibewust (digital awareness) is since January 2009 extended with stimulating digital skills as well.