29 Sep

Consultation on Gdańsk Roadmap for Digital Inclusion now closed

29 Sep, 2011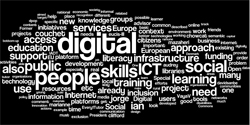 On September 28th, the Draft Roadmap for Digital Inclusion – previously embedded on Telecentre-Europe's website – has been closed for comments and consultation.
The collaborative text has ended with 172 comments, a very positive outcome in view of the short time-frame. The text is now being consolidated with the contributions received and will be discussed and adopted during Gdańsk conference on Innovation for Digital Inclusion. At the conference, the Roadmap is planned to be presented to Neelie Kroes, EC Vice President responsible for the Digital Agenda. Stakeholders with the most concrete contributions to the Roadmap will be welcomed to join this meeting.
The final text will be online on October 10th on the Multistakeholder platform website.