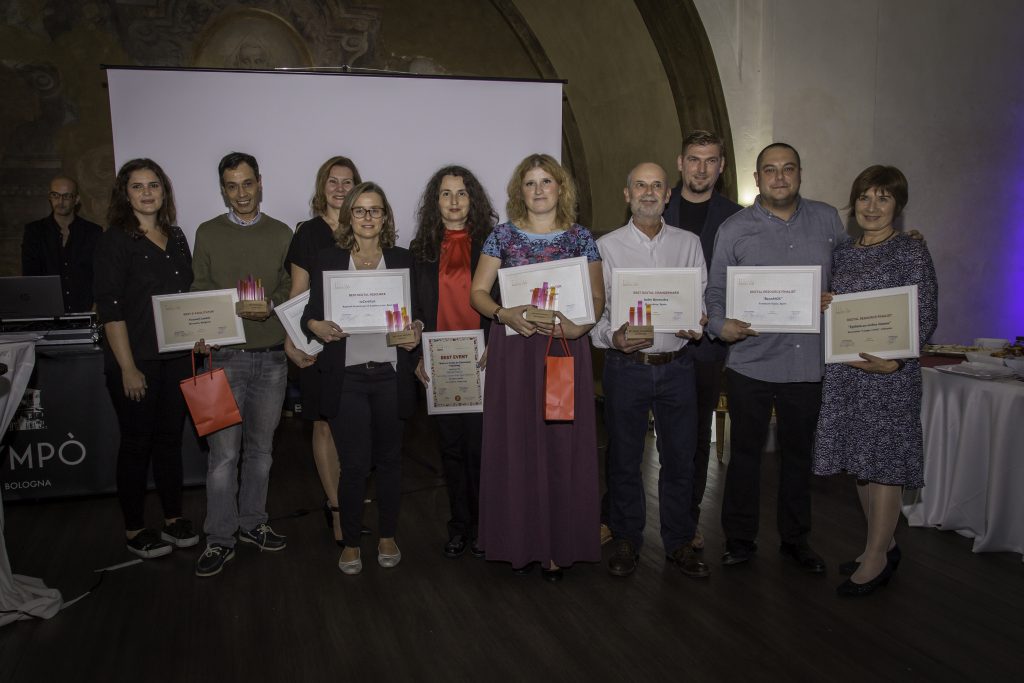 06 Nov

Celebrating ALL DIGITAL Awards 2019 in Bologna

06 Nov, 2019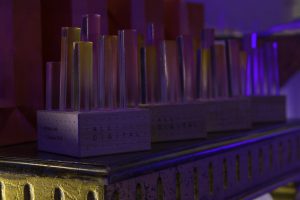 On the evening of 10 October 2019, participants of the ALL DIGITAL Summit celebrated the finalists of ALL DIGITAL Awards. The ceremony was held in the centre of Bologna, Italy, in an ancient church dating back to 1500s, which was transformed into an event location 'Sympo'.
The Ceremony was hosted by ALL DIGITAL Chief Operating Officer Peter Palvolgyi and Communication Manager Ekaterina Clifford.
The Awards Competition recognises the achievements of individuals and organisations across Europe that enable people to exploit the benefits and opportunities created by digital transformation. In 2019 the entries were submitted in three categories:
Best Digital Resource
Best Digital Changemaker
Best e-Facilitator
The forth category is coming from the flagship pan-European campaign ALL DIGITAL Week recognizing the three Best Events run during the campaign.
Many thanks to all the nominators who have shared the stories of e-facilitators and changemakers and also shared the digital resources they have created or found useful in their work.
Special thanks go to the JURY – our ADVISORY BOARD – who assessed all the applications during August and to 3D Trophy Factory for creating the beautiful trophies!

ALL DIGITAL WEEK BEST EVENTS
Every year in March, ALL DIGITAL runs the pan-European campaign ALL DIGITAL Week to promote digital inclusion and empowerment.  This year, 2,500 organisations in 31 countries joined the 10th edition to offer over 3,600 training and awareness raising events to 130,000 participants. A lot of the events were presented on the interactive map, and out of all of them the jury selected 14 finalists and then three winners. The three winners were invited to participate in the Summit and the Awards Ceremony.
The ALL DIGITAL Week best events winners were presented by the campaign manager Ekaterina Clifford and awarded to:
Web 2.0 Tools in Classroom Teaching organised and represeted by Biljana Popovic from Elementary School Knez Sima Marković, Barajevo, Serbia
Web VR-Jam Hackathon organised by IT4Youth Centre of Togliatti State University, Russia, represented by Olga Mikheeva
All Digital Challenge #RetoAllDigital run by AUPEX, Spain) and represented by Gema Parrado, Evangelina Sánchez, and Antonio Román
BEST DIGITAL RESOURCE
Achilles Kameas, Chair of the ALL DIGITAL Board, awarded the certificates to finalists:
and announced the winner 'TuCertiCyL', Spain (Castilla y Leon Government), represented by Elena Alvarez, President of Somos Digital.
BEST DIGITAL CHANGEMAKER
Best Digital Changemaker category was presented by Dimitri Tartari,  Regional Digital Agenda Manager for Emilia-Romagna Region. The finalists in this category are:
Kristi Kivilo, former CEO of Vaata Maailma (Look at World) Foundation; now ICT skills coordinator at Estonian Ministry of Economic Affairs and Communications, Tallinn, Estonia
Isidre Bermudez, Project manager at Esplai Foundation, Barcelona, Spain
John Munn, Founder at Global Digital Week, London, UK
Isidre Bermudez from Fundación Esplai was awarded as the Best Digital Changemaker 2019. Isidre said words of gratitude thanking all the co-workers and people who supported him to achieve this prize during 20 years of his work at Esplai in the digital inclusion field.
BEST E-FACILITATOR
This category is usually the most exciting, as e-facilitators are the ones working every day with people in centres. The finalists are:
The winner was defined by both the jury and public votes combined. This year there was a tie, so two out of the three finalists became winners – Dace Bergmane and Youssef Laakel received the trophies of Best e-facilitators 2019.
The winners Dace and Youssef were surprised with some videos that their co-workers and community had created for them in order to acknowledge their hard work and dedication. The videos moved all the attendees, and some tears were seen in the crowd.
We are pleased that our finalists and winners are coming not only from the ALL DIGITAL network, but also outside of it, and we hope more and more people will learn about the awards and nominate their projects and colleagues next year.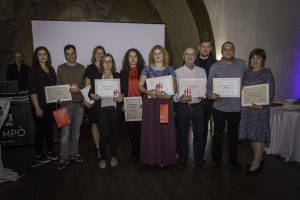 CONGRATULATIONS to all finalists and winners! We wish you all every success!
See more photos from the Awards Ceremony on the Summit website