15 Mar

Become TE's national Microsoft Technology Associate partner!

15 Mar, 2013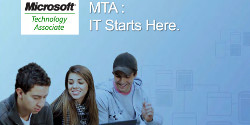 Telecentre-Europe invites its member organizations to become the national partner for distributing a total of 2.000 donated vouchers for young people to take a free Microsoft Technology Associate (MTA) certification exam.
Let's help our unemployed youth to fill one of those 800,000 ICT practitioners' vacancies expected to remain unfilled by 2015!
Microsoft has donated Telecentre-Europe free exam vouchers & learning resources (for a total estimated value of 70€) redeemable for the MTA certification exam.
MTA is an entry-level certification that helps people to explore ICT as a career choice and validates essential technology knowledge (based on Microsoft products), needed to start building a career in Microsoft technologies. It is excellent for those who want to be better prepared for the ICT job market – or even for those who are curious, but not decided yet on a career in technology.
What is the role of a national MTA partner?
1. Dissemination & selection
The role of TE's national MTA partner is to coordinate the donation program at national level and to allocate the free exam vouchers to applicants:
You will have to offer visibility of the program at a national level, for example by introducing it to universities or academic institutions with technical faculties, informing them of the opportunity to have their students take and pass an MTA certification for free. As all vouchers will expire on 30th June 2013, there is not much time left to start the promotion of the campaign, as students need to study for the exam first.
Applicants have to register individually for the vouchers online. When a person of a certain country applies for a voucher, Telecentre-Europe will inform the MTA partner of that country, upon which the MTA partner will contact the applicant for a minimal interview. Once the applicant has been selected upon the eligibility criteria listed on the applicant page, the national MTA partner will receive the voucher to be redeemed by the applicant.
2. Location of a Certiport Authorized Testing Centre
As an MTA partner, you need to locate a Certiport Authorized Testing Centre (CATC) where the applicant can take the exam, as this is one of the conditions of the voucher donation. If this is not possible, there are 2 options:
You can approach a university or academic institution with a technical faculty and advice them to become a CATC, as it is a very quick and painless process and it is free of charge.
Your organisation can become a CATC itself.
3. Documentation of impact
Each partner will have to keep a track of the numbers of vouchers received, distributed and activated
Each partner will track each individual voucher and will be responsible to input required tracking information into a database developed and made available by Telecentre-Europe.
Each partner will have to collect success stories of applicants that became certified and benefited from the MTA certification
Why to become a national MTA partner?
To provide an opportunity to 2000 youngsters (as main target) to achieve one or more of the MTA certifications
To target youth and therefore improve their chances of staring a career in the ICT profession
To demonstrate the impact of such certification programs at European level
To demonstrate the potential role telecentres are playing in delivering training and certification programs
To develop further certification programs attached to your current training projects
Additional benefits for your organization
Your organization will gain visibility and promotion both at national and European level thanks to a number of synergies that are activated by this project
Your organization's logo will be inserted on all communications related to the implementation of TE's free MTA exam vouchers program
Your organization will get a more accurate knowledge of the local certification sector
You can become a distributor of paid certification exam vouchers  in your country
Memorandum of Understanding
To formalize the partnership, Telecentre-Europe will ask your organisation to sign a Memorandum Of Understanding (MOU)