12 Jul

Training course on preparing Erasmus+ KA2 proposals: face-to-face part in Italy

12 Jul, 2019

LOCATION
The training course will take place in Foligno, a town in the beautiful Umbria Region of Italy, characterized by hills, mountains, valleys and historical towns such as  Perugia and Assisi, a World Heritage Site. With a bit more than 60,000 inhabitants, Foligno is the third town of the Umbria Region, the so-called "green hearth of Italy".
The area offers tourists a rich cultural heritage, archaeological, medieval and spiritual tourist attractions and a fascinating landscape. Several cultural events, such as traditional fairs and music festivals take place throughout the year and make the region a pleasant place to visit in any season.
You will discover that Foligno and its surroundings can offer more than you can expect and it is a very good and quiet place to carry out training activities, as well as a strategic location to reach more Umbrian venues, like Assisi, Perugia, Spello, etc.
HOW TO GET THERE
From Perugia
The closest airport to Foligno is the "San Francesco D'Assisi" Umbria-Perugia International airport, which is mostly served by Ryanair flights from London Stansted, Malta and Brussels Charleroi. If you are lucky and you find suitable flights with the meeting dates, then the host partner will be outside of the airport waiting for you and will drive you to your accommodation.
From Rome
Most of participants will land in Rome (Fiumicino or Ciampino) and, depending on the arrival and departure times, they get one of the numerous trains that, in max 2 hours, can bring them directly to the "Foligno" train station, from where the host partner will organize transfers to your accommodation.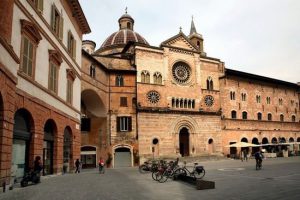 VENUE
The group will be accommodated in the countryside of Foligno, Bevagna, at "Il Poggio dei Pettirossi", where most of the training activities will take place. Breakfasts, lunches and dinners are included and will be served at the same location.
The host partner will organize for participants transfers from Foligno train station to the hotel and back and transportation for all the activities and trips.
Back to the information about the training course