03 Oct

Telecentres by and for the elderly in Denmark

03 Oct, 2012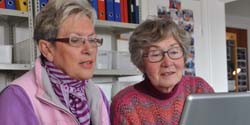 It's all about feeling comfortable, about creating the right environment. The telecentres of the Association of Danish Senior Citizens generate that feeling. Because for many elderly, the idea of returning to the school bench is an intimidating one, as they retain unpleasant memories from their school days.
Take a cup of coffee, a friendly face, a patient teacher and the ever present instinct to learn and you have the makings of a telecentre! The elderly teach the elderly – there is a feeling of camaraderie, they are of the same age, speak the same language and invariably come from the same area – they are peers.
The association runs more than 180 telecentres located across the entire country. More than 1.000 volunteers teach more than 10.000 elderly every year and the number is increasing. For the elderly, it is important that telecentres are locally situated and within easy reach.