05 Jun

International Congress for Telecentre Managers in Vitoria-Gasteiz (Spain)

05 Jun, 2012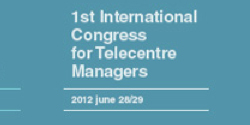 "KZgunea"- the Social Innovation Centre (SIC) Network of the Basque Country is organizing the 1st International Congress for Telecentre Managers in partnership with the Spanish Community Telecentre Networks Association on June 28-29 in Vitoria-Gasteiz (Basque Country, Spain)

The aim is to create a meeting point where Spanish, European and Latin American organisations can share methodologies, processes, resources, tools and new practices in Management and Coordination, in addition to analyzing the current situation and evolution of the aforementioned.

The congress offers a great chance to analyze the situation regarding telecentres and to reflect on the future possibilities available to these organizations.
Although we should not overlook the current economic difficulties, there are many projects in which telecentres can collaborate: by encouraging the use of electronic administration, and helping citizens to acquire skills to enable them to take part in public affairs, etc.
» continue reading on the conference website
» view & RSVP for the event at our community site