30 Oct

"ICTSkills4All – Empowering old citizens for a digital world" project kick-off meeting

30 Oct, 2018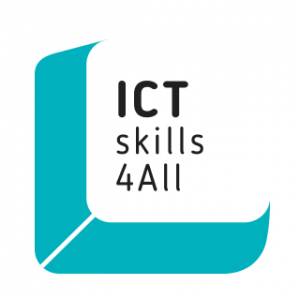 A new 2-year Erasmus+ KA2 project, called ICTSkills4All – Empowering old citizens for a digital world kicked off on 26 October 2018 at the University of Porto (Porto, Portugal) that will coordinate the project. The project involves ALL DIGITAL and four other partners: HIPOKAMP from Poland, Alliance  Senior Active Riga from Latvia, Cybermoore Services from UK and, as already mentioned, the University of Porto as project coordinator.
Purpose of the project
The ICTSkills4All project aims to foster digital skills in older adults aged 55 years and over who have minimal or no engagement with digital technology to increase their quality of life and autonomy and reduce isolation and segregation. In our transforming society, the elderly population, lacking digital skills, has no longer access to a range of services, even in terms of health. Therefore, it is important to increase their capacity to use these new products and services that are being developed.
In order to do so, the ICTSkills4All project will develop an ICT Learning Programme, which includes:
A dedicated online platform with information, training tools and resources addressed to those who have low digital skills;
Face-to-face support using the inter-generational and peer-to-peer approaches addressed to those who have no digital skills. The aim of this phase is to provide these people with basic digital skills that allow them to access the platform.
The face-to-face piloting will test, which is the best methodology between the inter-generational approach, where the university students help the elderly, or the peer-to-peer approach, where the elderly with no digital skills are assisted by colleagues with more skills.
Productive kick-off meeting
The kick-off meeting started with a welcome by Professor Maria de Lourdes Fernandes, Vice President for Education, Academic Affairs and International Cooperation, which was followed by the presentation of each partner organisation (see the list of partners and representatives below).
Throughout the meeting, project partners discussed the best ways to organise the two years of work on the project. ALL DIGITAL will be specifically involved in the production of policy recommendations for future project results transferability and up-scaling addressed to policy makers and training providers. An exploitation roadmap will be produced as well, including potential policy makers and key stakeholders at local,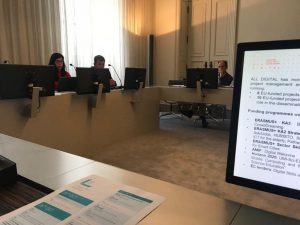 regional, national and EU level.
ALL DIGITAL will also contribute to the research at EU level on online resources as well as to the one on existing inter-generational and peer-to-peer approaches dedicated to improving digital skills of adults over 55.
The project target groups are older adults aged 55 years and over who have minimal or no engagement with digital technology. The short-term impact goal is to train at least 160 old adults without digital skills. Two pilot groups, one testing the inter-generational approach and the other testing the peer-to-peer approach, will be run in each pilot country (UK, Poland, Portugal and Latvia). Each of them will involve 20 adults, plus five teenagers per group in inter-generational pilots and five adults with digital skills in peer-to-peer pilots.
The adults and teenagers who will take part in the activities, will be selected on a voluntary basis taking advantage of the networks that already exist in each project partner organisation.
A multiplier event with different stakeholders will be organised in each project country.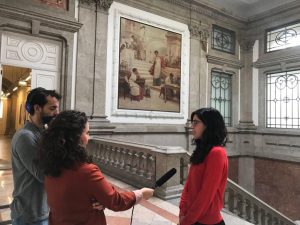 The final event and project meeting will take place in Brussels hosted by ALL DIGITAL, and it will be focused on the project results and policy recommendations.
The next face-to-face meeting with all the partners will take place at the end of February 2019, in Latvia.
Partner organisations and meeting participants: