22 Jun

HURISTO PROJECT: FOUR WEBINARS ON DIGITAL STORYTELLING

22 Jun, 2018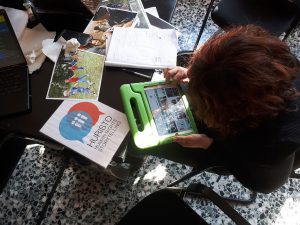 In the context of the HURISTO (Human Rights Storytelling) Project, four webinars on Digital Storytelling have been delivered by Veronique de Leener from Maks.
Digital storytelling is a simple and accessible way to tell a story via digital tools. It's a personal narrative of 4-5 minutes with photos, drawings, a voice off and edited by the storyteller. The aim is to share a story with other people to influence them or to bring them to some action.
In the HURISTO Project, digital storytelling is the methodology that is implemented to produce digital stories on human rights. Low skilled adult learners increase their digital skills and, at the same time, reflect on fundamental rights. The aim of the HURISTO Project is, indeed, to raise awareness about the European Human Rights Charter as a part of Global Citizenship Education with low skilled adult learners.
Each of the four webinars has placed a focus on a specific aspect of digital storytelling:
Production of a good story: in the third webinar the focus was on the actual production of a digital story. The story circle, the moment during which the digital story takes shape with the help of the other participants, was presented as one of the most crucial moment in the production;
You can watch the webinars by following the links above.