31 Mar

Get Online Week 2011

31 Mar, 2011

More than one hundred thousand Europeans were reached by telecentres in 30 European countries in the 2011 Get Online Week campaign.

Neelie Kroes, the Vice President of the European Commission thanked telecentre staff, and hailed them 'European heroes'.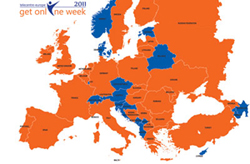 Get Online Week 2011 ran from 28 February to 5 March and reached 112.074 people in 30 European countries. They  had answered a few simple questions in a short survey and had been supported to use computers and  the internet in about 5.000 telecentres in education venues, libraries and NGOs.
» Campaign story
» Stakeholders comments
» Reports & pictures by country
Video:
» Message from Neelie Kroes (2min)
» Launch Event Get Online Week 2011 on February 28 in Brussels: (8min17s | 1min)
» GOW2011 in Lithuania (3min40s)
» GOW2011 in Croatia (3min11s)