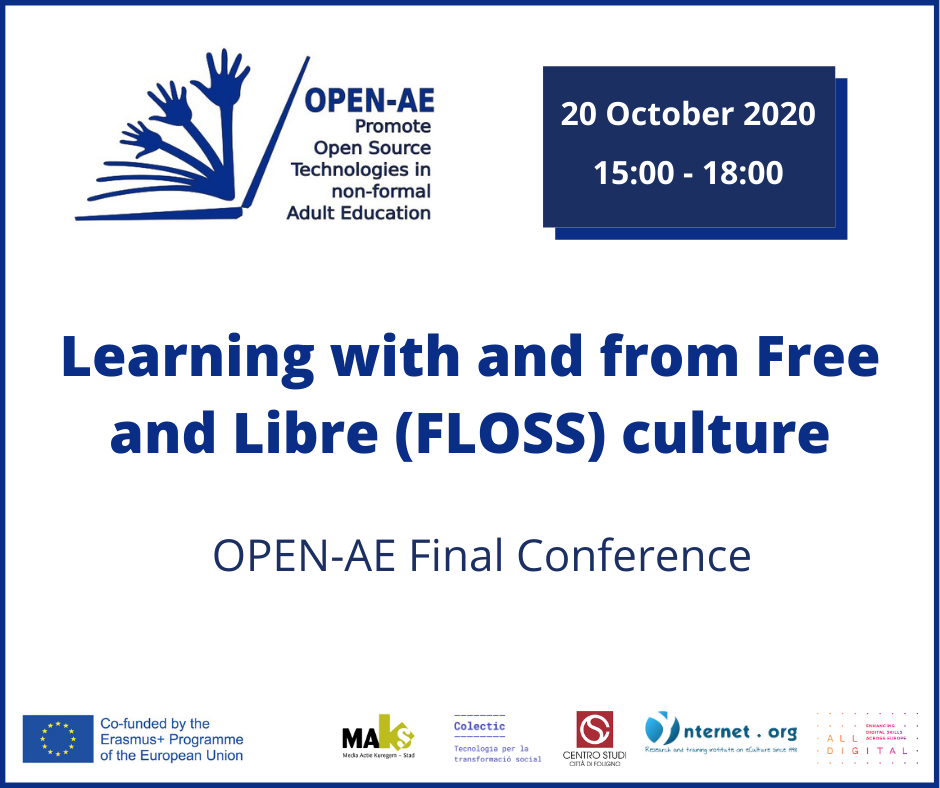 21 Sep

Learning with and from Free and Libre (FLOSS) culture OPEN-AE Project Final Conference

21 Sep, 2020

Digital skills and competences are increasingly pegged to proprietary software solutions. While Free Libre Open Source Software (FLOSS) technologies are meant to be open and are freely accessible, most FLOSS users already have some competences in licensing and ownership when making the decision to use FLOSS. New users with low skills are often intimidated or insecure with their own capacities to use open source technologies, and thus may choose to use proprietary options because some brands are more associated with skills.

The OPEN-AE project aims to bridge this gap and promote practices and tools to make open culture and free software more accessible for new users. OPEN-AE wants to support European digital competence centres in becoming innovative trainings hubs, capable of catching up with the latest developments in digital economy and teaching digital skills in an accessible way to their specific target groups.

The OPEN-AE project project developed and tested:
A curriculum training scheme on open source technologies addressed to educators working in non-formal adult education, mapped on the DigCompEdu Framework.
An online toolkit for educators in five languages (EN, NL, FR, IT, ES) by adapting open educational resources already available. It serves as guidance for adult education strategies, tools and approaches for developing digital skills training.
A modular blended course of 60 hours in open source technologies and pilot it with 40 educators from four countries to improve their knowledge of open digital learning technology, tools, platforms and using them.
Additionally, project partners produced guidelines for transferability and upscaling of project results and recommendations for non-formal education providers and policy makers.
The project and experiences of partners, trainers and learners will be presented at an online conference on Tuesday 20 October 2020 at 15:00–18:00 by the Consortium. In addition, invited guest speakers will address the project's themes from different angles.
Registration for the event is mandatory. REGISTER HERE!
Learn more about the project outputs at the OPEN-AE website
PROGRAMME
15:00-15:10 | Welcome
Renato Sabbadini, CEO of ALL DIGITAL
15:10-16:30 | Panel debate: The use of free and libre (FLOSS) technologies in non-formal adult education
Free Libre Open Source Software (FLOSS) technologies are becoming increasingly integrated in various sectors and operations. While OPEN-AE project focused on developing tools to integrate FLOSS technology and culture in the non-formal adult education sector, there are many other areas where it is being utilized. The panel debate will offer an insight to transferability and good practice examples of FLOSS utilisation and present latest policy developments in the field.
Moderator: Leonor Afonso (Foundation Ynternet.org)
Speakers:
Véronique Guisen, Digital Public Space, Director of the "Saint-Gilles Web Workshops"
Francesc Rambla, Centre de Telecomunicacions i Tecnologies de la Informació (CTTI), Consultan
Frédéric Colignon, Popular Digital University, Brussels Linux User Group (BxLUG) and member of ABELL
Luca Pagliaricci, OPEN-AE project, Centro Studi Citta di Foligno, Project Manager and Consultant
16:30–16:45 | Coffee Break 
16:45–17:40 | Presentation of the OPEN-AE project results, partners' experiences and future perspective
Trainees who participated in the OPEN-AE piloting will, together with representatives of the project's partner organisations present project results (OPEN-AE Toolkit and Online platform), piloting experiences from Belgium, Italy, Spain and Switzerland, and future perspectives for the developed methodology and tools.
17:40 – 17:45 | Closing of the event