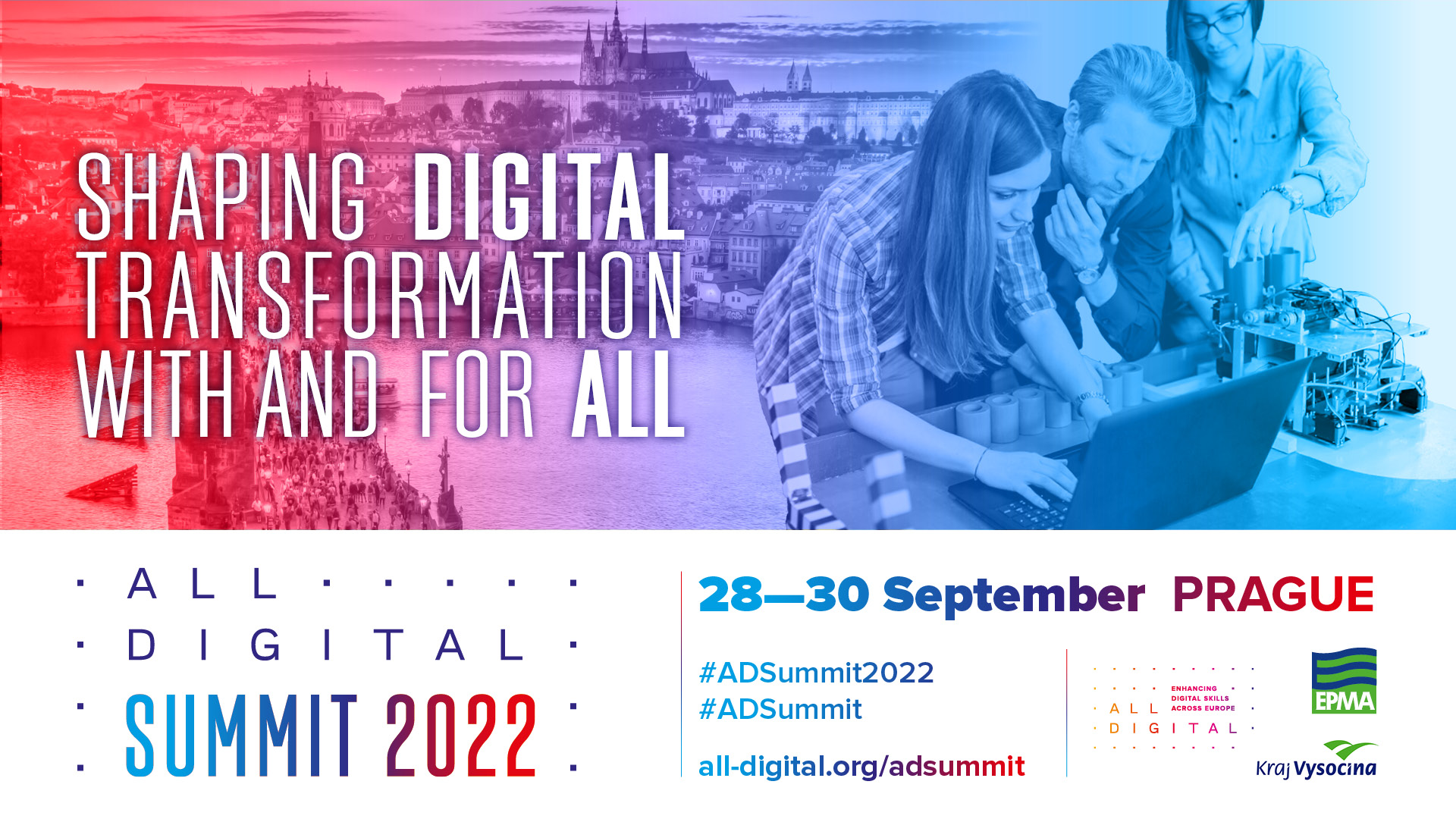 17 Jun

Shaping DIGITAL Transformation with and for ALL – AD SUMMIT 2022

17 Jun, 2022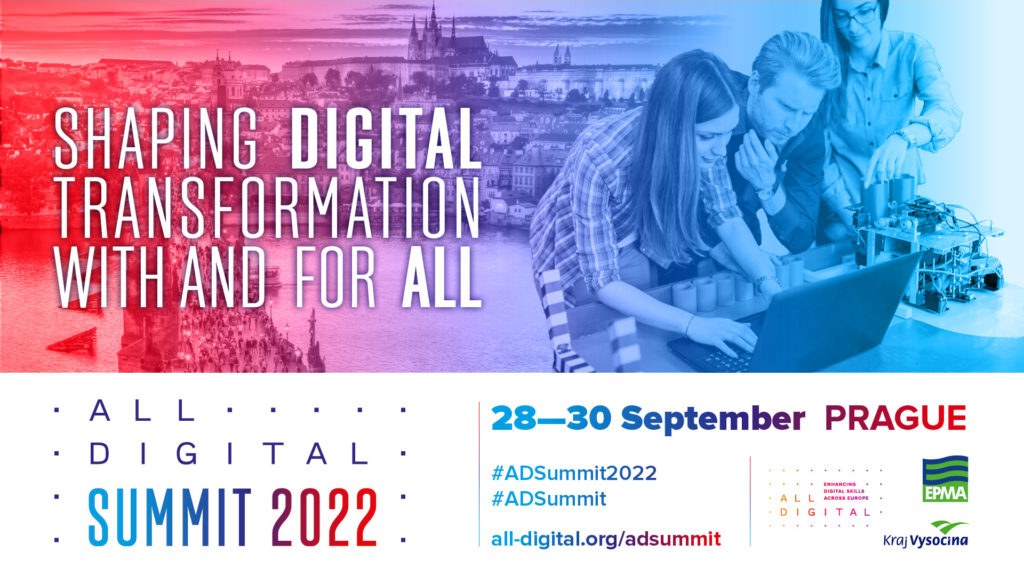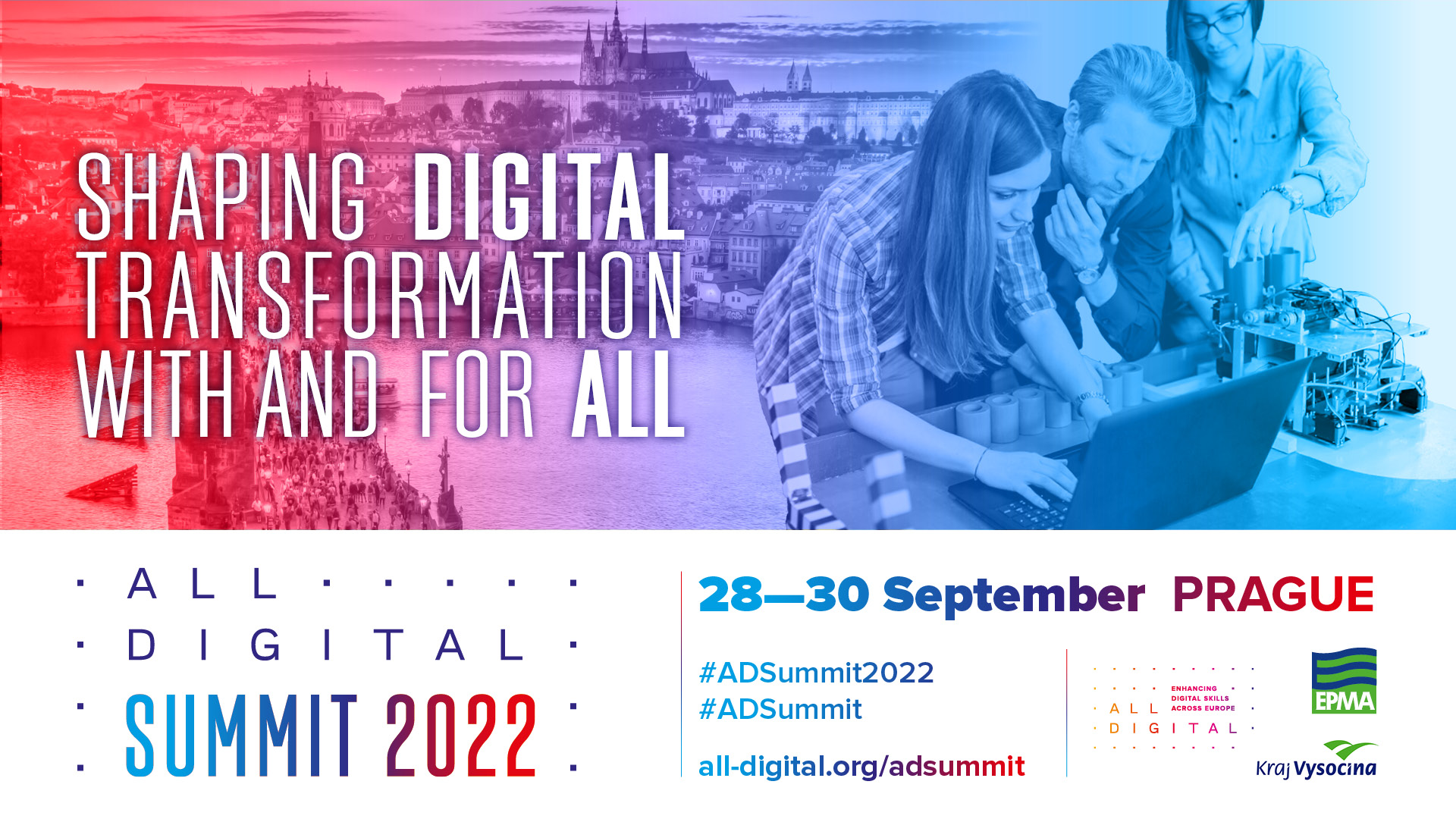 The ALL DIGITAL Summit 2022 takes place in Prague on 28-30 September 2022. It focuses on the effects of digital transformation in different sectors and groups of society, and on how digital (and other) skills can help people identifying the benefits for their growth. 
The Summit 2022 is titled "Shaping DIGITAL transformation with and for ALL'' and is going to include high-level keynote speeches, panels, workshops and informative sessions. Policymakers, digital education stakeholders, trainers and educators, civic society and industry representatives will gather in Prague, after 2 years of online meetings, to get the latest insights on policy actions, innovation and projects related to digital skills, education and upskilling/reskilling. Interesting networking opportunities will be guaranteed in a lively context with more than 150 participants to allow them to connect and exchange ideas.
The ALL DIGITAL Summit focuses on what digital transformation implies in the digital skills sector and its impact on culture, innovation and education, especially on the must-to-have skills in modern societies. The events will also present lessons learnt from the recent past on how to enhance digital skills across Europe through education, learning and training – in particular in the non-formal sector.
The events will present different perspectives, paying particular attention to the effects of digital transformation on Youth, with the ambition to sustain the European Year of Youth and the development of an inclusive, tech ready and future-proof society.
The Summit is organized by ALL DIGITAL and hosted by EPMA (ALL DIGITAL Czech member) and the Vysočina region which have offered consistent support to the event, as it is taking place in Prague, during the Czech Presidency of the Council of the European Union.
Find the programme here!
Registrations are open!
The Venue
The Summit will take place in the VZLET community center located at Holandská 669/1, Praha 10 – Vršovice.
ABOUT VZLET
The new cultural center of Prague was opened in 2021 by three Prague cultural organizations – the Vosto5 Theater, the Collegium 1704 baroque orchestra and the Vršovice Kino Pilotů. The hundred-year-old Sokol cinema is thus pulsating with life again after decades. People go to Vzlet for theatre, music, exhibitions, educational programs or dance at the ball.
The cultural centre target audiences across generations. People behind it describe it as follow : "The most important thing for us is partnership and participation. We understand cultural "experience" as an inherent part of our lives and we want to bring it to everyone who is open to something new. To all who come to have fun and are not afraid to ask questions. We are here for all the residents of the Vršovice neighbourhood, culture-hungry viewers and discoverers of new forms and approaches. The culture is us – people working at Vzlet and all of you who come there. Come and discover a new place on the cultural map of Prague."
Do not hesitate to contact us for any further information at summit(at)all-digital.org