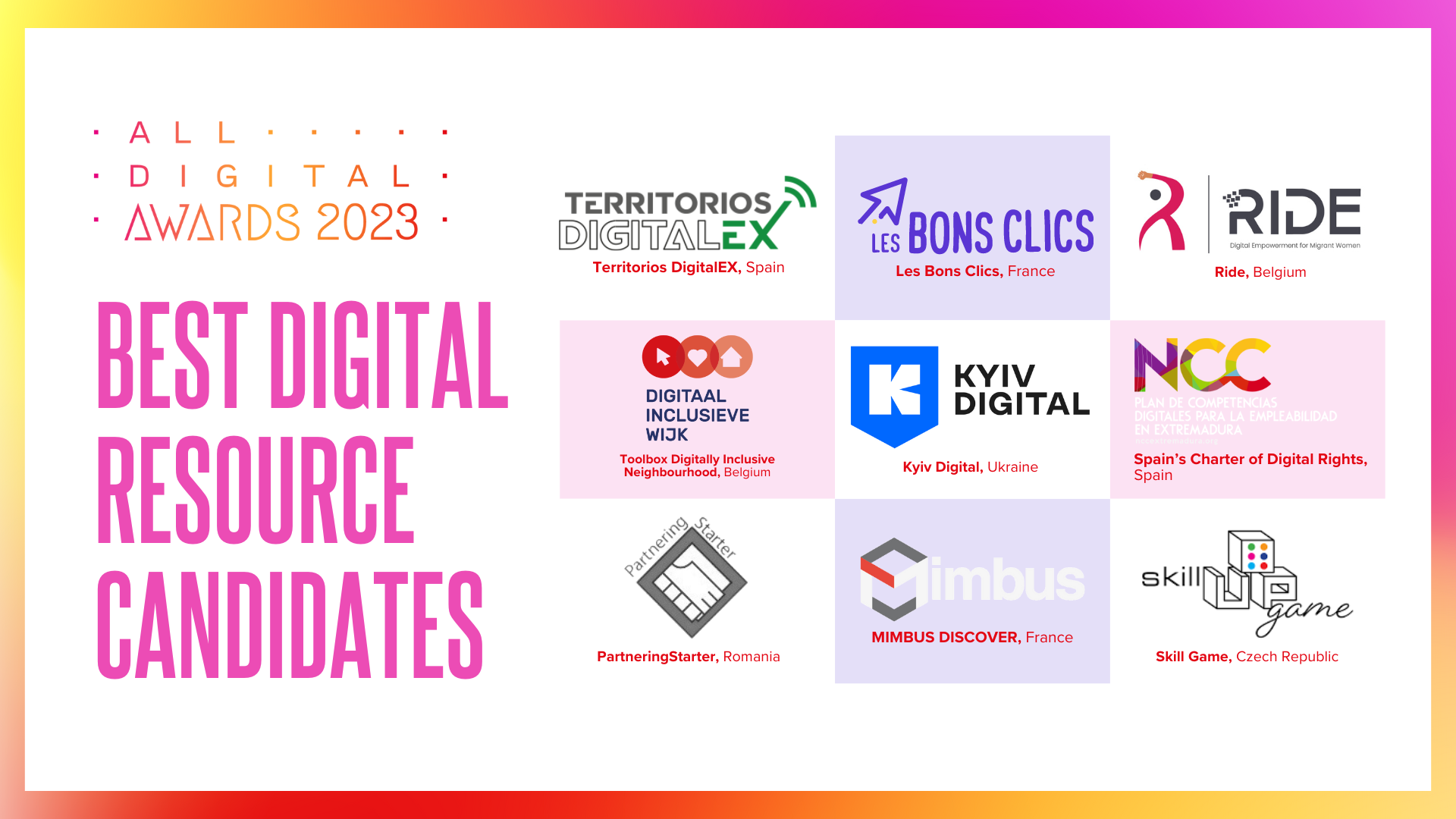 14 Jun

ALL DIGITAL Awards 2023: Best digital resource

14 Jun, 2023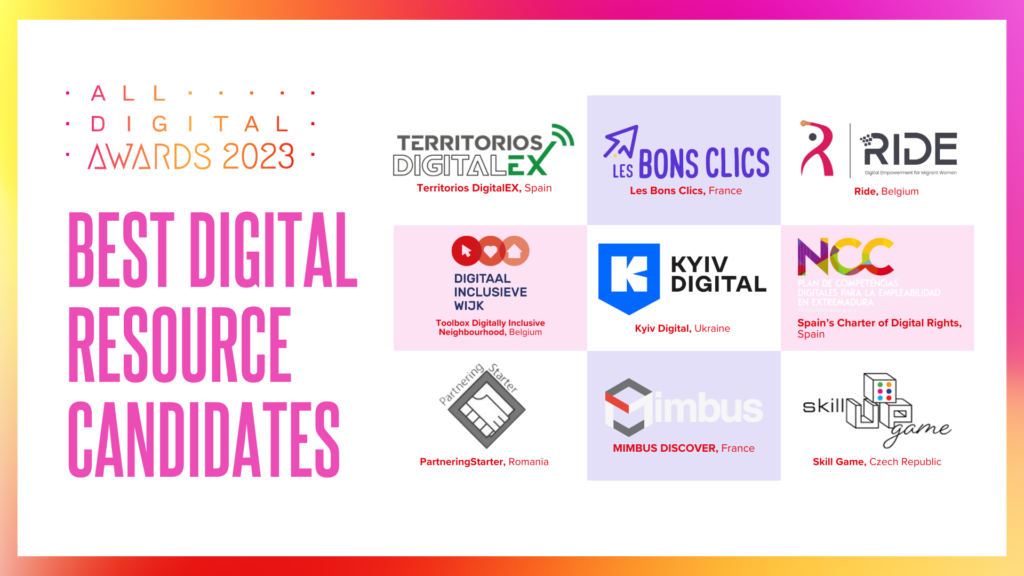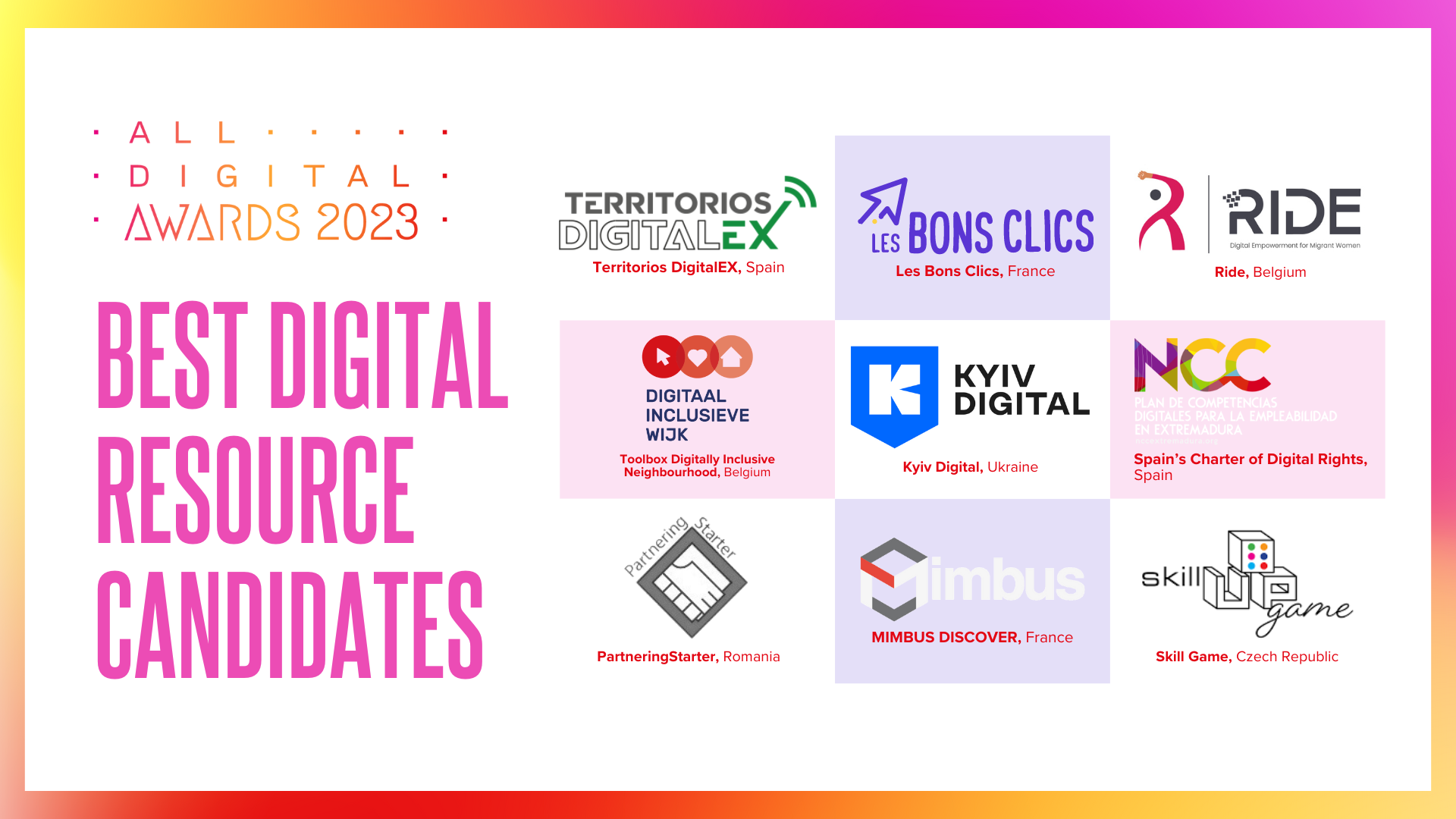 Category: organisational
Finalists:
Partneing Starter, Romania
PartneringStarter is a cutting-edge tool revolutionizing Partnership Brokering practices. By engaging libraries, local authorities, NGOs, and various stakeholders, it fosters comprehensive partnerships through a unique partner-matching service. With active participation from 20 libraries, 10 NGOs, and public institutions in Romania and the Balkans, PartneringStarter is driving cohesive community growth.
PartneringStarter provides simple, efficient digital tools for managing cooperation networks, consortium partners, and local action groups. Available in English, our platform's scalability is poised to serve stakeholders across diverse geographies.
Territories DigitalEX, Spain
Territorios DigitalEX serves as a comprehensive guide to grasp the effects and potentials of digital transformation in rural and urban areas. This platform, dedicated to "smart territories and towns," offers enlightening content to shed light on developmental strategies. A central feature is the immersive 360º virtual tour, guiding visitors through an imaginative town that mirrors our region, showcasing practical applications of intelligent solutions across various domains. This captivating tour serves educational and entertainment purposes, facilitating a thorough understanding of digitized towns.
The platform empowers individuals to comprehend smart territories in an era marked by the rise of the Internet of Things. With meticulous organization, Territorios DigitalEX provides instructive and pragmatic information, including a map of smart solutions in Extremadura adaptable for replication in other regions using OpenStreetMaps. This versatile resource is designed to globally raise awareness about the concept of smart territories and their functional mechanisms, inviting all to embark on an enlightening journey to explore the transformative realm of digital landscapes.
Spain's Charter of Digital Rights, Spain
The resource at hand is a digital adaptation of the "Charter of Digital Rights," initially introduced by the Spanish Government in July 2021. This Charter, developed in collaboration with experts from the public and private sectors under the Ministry of Economic Affairs and Digital Transformation, is designed to protect citizens' digital rights.
This adaptation ensures that the Charter's content remains accessible, comprehensible, and inclusive to all, including individuals with intellectual disabilities. This tailored approach aligns with international guidelines, and the resource encourages easy understanding of the Charter's principles. Its potential influence is evident through substantial website visits since its unveiling, demonstrating its relevance and prospective impact.
Toolbox Digitally Inclusive Neighbourhood, Belgium
In collaboration with e-inclusion teams from Kortrijk and Antwerp, an "Ideal Digitally Inclusive Neighbourhood" framework has been created. This framework emphasizes five key pillars: ensuring access to digital devices, providing individual and group counselling, offering digital exercise options, and establishing effective coordination.
Based on experiments conducted in three cities, 28 actionable strategies have been distilled into a comprehensive toolbox, accessible both physically and online. These strategies are categorized for scalability, variations, and success factors, serving as an adaptable resource for enhancing digital inclusion initiatives.
This toolbox is not only a foundational resource within Flanders but has also been integrated into the "digital inclusion coach" training program. Its practical approach allows for the prioritization of specific pillars, ensuring gradual progress towards achieving a Digitally Inclusive Neighbourhood. The concept's adaptability makes it transferable to other regions, potentially facilitating cross-regional exchanges of effective practices and inspiring broader digital inclusion efforts. Regular updates and practical insights are available through the toolbox's ongoing online presence.
MIMBUS DISCOVER, France
MIMBUS DISCOVER is a groundbreaking virtual reality solution that immerses users into various trades, enabling them to experience and identify their talents firsthand. From electricians to chemists, mechanics to production line operators, users engage in lifelike trade scenarios, performing exercises and receiving real-time feedback. All user decisions and actions are tracked, providing recruiters with skill-based insights to identify and recruit top talent.
Distributed in over 50 countries, MIMBUS DISCOVER is tailored for vocational training centres and companies seeking to introduce professions and uncover new talents. Launched in 2020, it has already reached around 100,000 users. Beyond vocational institutions, this tool can help people explore different work environments and find suitable roles.
Les Bons Clic, France
Les Bons Clics is a user-friendly digital platform designed to enhance digital skills for various audiences. Accessible on smartphones, tablets, computers, and desktops, it offers a range of interactive training courses for daily digital services. The platform serves as a hub for digital helpers seeking educational resources on digital inclusion and their role, while digital learners can access over 100 courses covering topics like basic computer skills, e-health, and more. With a community of over 60,000 digital caregivers and 12,000 social organizations, Les Bons Clics has become a pivotal resource, hosting more than 1.5 million annual consultations. Its success is underscored by its broad impact, supporting over a million beneficiaries and expanding its reach to extra countries such as Belgium and Switzerland under the name "1,2,3 Digit," providing easy-to-use, interactive resources for enhanced digital inclusion.
SkillUp Game MOOC, Czech Republic
The Erasmus+ project SkillUp Game is dedicated to enhancing the competence of "problem-solving in a technology-driven environment" through the integration of gamification, serious games, LARPs, and facilitation in educational programs. This initiative produces methodological outputs and MOOCs, available for educators and lecturers to further develop their skills. The project and MOOCs specifically support lecturers working with individuals having low qualifications, classified as distance informal education. The MOOC, built upon the project's methodology, prioritizes practical understanding and application of knowledge. Pilot tests across Europe demonstrated that incorporating games and game elements into training improved participant motivation, engagement, and learning outcomes. This methodology, adaptable and versatile, aids in training new educators and is readily applicable to new subjects, fostering engagement and facilitating efficient learning. The potential applications of this approach are extensive, and its language translation poses no barriers.
RIDE – Reach Inclusion Through Digital Empowerment For Migrant Women, Belgium
The RIDE project is dedicated to fostering the inclusion of migrant and refugee women into the digital labor market. This initiative provides specialized courses and training, enabling re-skilling and upskilling in the digital sector, facilitating their entry into the workforce. Training takes place in multiple European cities and is delivered both online and in-person. The project caters to a diverse range of target groups including HR managers, educators, career guidance professionals, trade unions, and policymakers, while the Interactive Crowd Map of RIDE connects migrant and refugee women with supportive services throughout Europe, aiding their integration into the digital job market.
The RIDE project's impact has garnered positive recognition through evaluations and discussions, with lasting effects anticipated. The project's resources are versatile and easily adaptable to diverse audiences, allowing for translation and customization as needed. While human resources might be required for material adaptation, the freely available online resources facilitate seamless implementation.
Kyiv Digital, Ukraine
Launched in January 2021, the Kyiv Digital app initially served as a transportation platform and evolved into a citizen-centric governance tool in Kyiv. With the outbreak of the Ukraine invasion in February 2022, the app transformed to provide up-to-date information, becoming a reliable source during crisis times. Kyiv's mission is to create an innovative state, offering comprehensive online services for citizens and businesses. With 2,413,237 users (almost the entire adult population of the city), Kyiv Digital has revolutionized city governance, ensuring inclusivity, transparency, and citizen-focused services. Even during the war, Kyiv demonstrates digital inclusion, showcasing the app's role as an essential tool for critical information dissemination. The city serves as a model for innovation and collaboration, actively sharing expertise and fostering partnerships for mutual growth in smart city development, digital infrastructure, and e-governance.
Nomination: by an ALL DIGITAL member organisation
Description: A digital resource is an online product for educational benefit, contributing to enhancing digital skills or providing an organisation with a useful tool to use with the customers or by customers directly. It should be free to use and be sustainable beyond its development (or funded) period.
The resource can be developed by:
an ALL DIGITAL member organisation;
a consortium within a project where a member organisation is a partner;
or an external company, if the member organisation uses it routinely within their training programmes.
Examples include, but are not limited to: a self-assessment tool, an educational game, a serious of instructional videos, an online training course or MOOC.
Selection process: Jury
Assessment criteria:
Innovation: the resource addresses digital skills in a new way; proposes new solutions for enhancing digital skills and employability perspective; is unique in offering opportunities to upgrade skills.
Impact: the initiative has demonstrated evidence of positive impact on users (on their digital/entrepreneurial skills level; on their employability perspectives).
Scalability: the resource can be easily adapted to other audiences and/or localised.
Sustainability: the initiative has ensured some means of funding or a business model in the medium to long term to be able to maintain its operations and outcomes.
back to ALL DIGITAL Awards 2023